1
London
London News & Search
1 News - 1 eMovies - 1 eMusic - 1 eBooks - 1 Search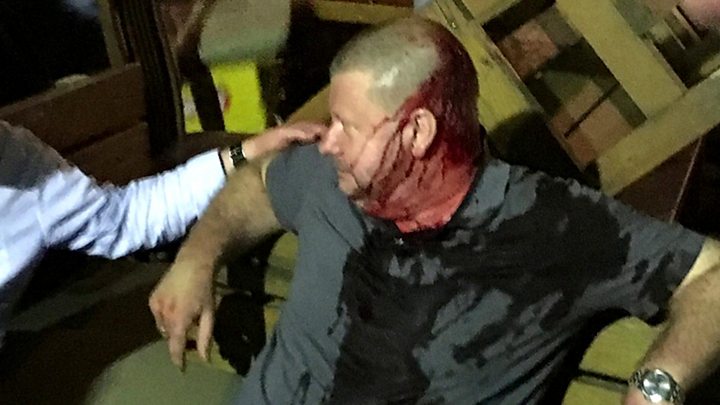 Two Aberdeen fans have been treated for injuries after supporters were attacked in Bosnia ahead of the club's Europa League game against Siroki Brijeg.
About 50 supporters were subjected to an unprovoked attack outside the Black Dog Pub in the old town area of Mostar on Wednesday.
A group of about a dozen masked men set off flares and attacked the Aberdeen fans with baseball bats and metal bars.
Siroki Brijeg said it "strongly condemned the hooligan attack".
The club, which is based in the town of the same name about 12 miles from Mostar, said it had set up a fan zone ahead of Thursday evening's match, and guaranteed there would be "maximum security" for the Aberdeen fans.
In a statement posted on its website, the Bosnian club also thanked Aberdeen and its supporters for the "extraordinary welcome" they had received in Scotland during last week's first leg, which ended in a 1-1 draw.
About 200 Aberdeen supporters were expected to attend the second-leg tie in Bosnia. Siroki Brijeg were recently ordered to play three matches behind closed doors by the country's football association after the club's fans chanted fascist slogans during a match with Sarajevo in May.
'Masked guys'
Aberdeen-based journalist Derek Ironside, who was at the pub at the time, told BBC Scotland that the atmosphere had been "very good natured, with not a hint of trouble or hassle at all".
He added: "Everybody was just enjoying themselves, it was a good atmosphere, very relaxed.
"Then all of a sudden down this small, narrow lane came a group of about 12 masked guys with flares. They started throwing the flares towards the Aberdeen fans, and I think they had weapons as well."
Mr Ironside said he believed one Aberdeen fan "looked quite badly injured" and had been taken to hospital.
Aberdeen Evening Express journalist Sean Wallace was also among those caught up in the violence.
He wrote on Twitter: "Sore head after being bottled by masked Bosnian hooligans in Mostar. Also cuts to legs after being hit by flare in Mostar. Sore but ok."
In a statement on its Facebook page, the Black Dog Pub offered its "sincere apologies" to the Aberdeen fans.
It said: "This was a football rivalry-related incident and is not normal in the old city of Mostar.
"The police are involved and people have been identified. If anyone has any more info please pass it forward.
"Because of this incident, we are asking the good people of Mostar to please come around the old city this weekend and show your support that Mostar is a safe place for tourists and everyone."
1
London
London News & Search
1 News - 1 eMovies - 1 eMusic - 1 eBooks - 1 Search