1
London
London News & Search
1 News - 1 eMovies - 1 eMusic - 1 eBooks - 1 Search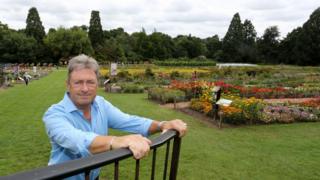 TV gardener Alan Titchmarsh has hit out at a road-widening scheme that threatens a swathe of Royal Horticultural Society (RHS) woodland.
The RHS said there were two options to widen the A3 in Surrey as part of M25 improvements and one would take out a bank of trees including giant redwoods.
The scheme could see RHS Wisley lose 500 trees, including one planted by the Queen to mark her silver jubilee.
Highways England said the gardens would benefit from "better, safer access".
But Titchmarsh, an RHS ambassador, described the plan as "garden-grabbing" and said: "We must stand together and protect our gardens.
"I'm calling on the UK's army of 27 million gardeners to make it known that a disregard for these important trees and lack of appreciation of the national importance of this garden would not be acceptable."
Expanding the A3 to the west would take out trees more than 100 years old, several giant redwoods and five trees identified as "threatened and endangered in cultivation", the RHS said.
Early autumn for 'stressed' trees
RHS director general Sue Biggs said: "It would be criminal for this irreplaceable woodland to be lost when another viable plan would avoid cutting down these century-old trees and still meet the important need to widen the A3."
The charity wants Highways England to choose the option on the east of the A3, which it said would not take woodland from Wisley and would provide better road access to the gardens, which attract 1.2m visitors each year.
Project manager Hugh Coakley said: "Highways England cares about the environment, and protecting the special habitats around Wisley is a priority for us as we develop our proposals for major improvements at the junction of the M25 and A3 in Surrey.
"Both the options we consulted on in the winter include better, safer access to Wisley Gardens and we will continue to work closely with RHS Wisley as we take the project forward."
1
London
London News & Search
1 News - 1 eMovies - 1 eMusic - 1 eBooks - 1 Search