1
London
London News & Search
1 News - 1 eMovies - 1 eMusic - 1 eBooks - 1 Search
If you go to see Angels in America this week, expect more than your usual cinema experience.
The two-part production lasts almost eight hours, features over 30 characters, puppetry and an angel crashing to earth.
It's a theatre play in London broadcast live to cinemas internationally.
"Anyone who comes to see it feels like we've all been through something together, like a ritual," says its star, Andrew Garfield.
He insists the story, set in the Aids crisis of the 80s, is still relevant.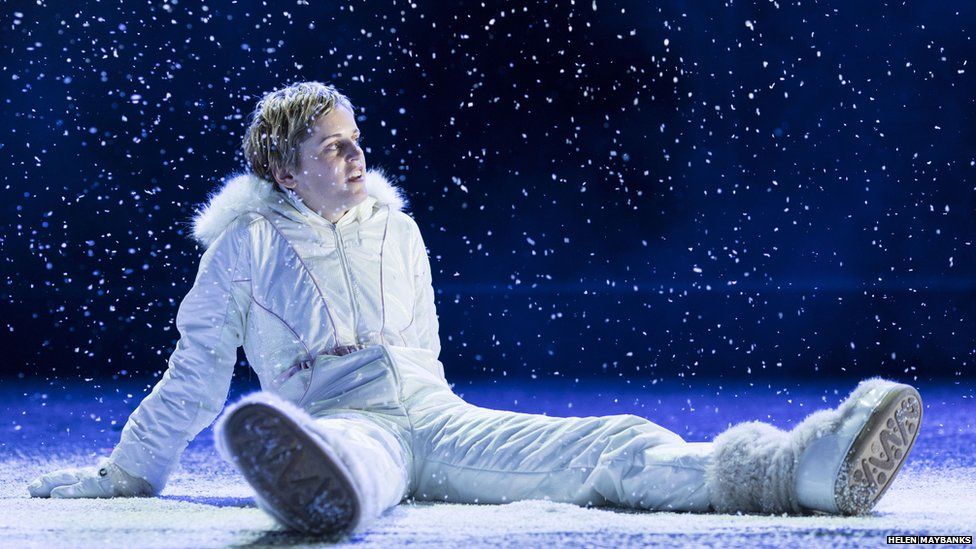 Image caption Denise Gough in one of Angels' more surreal scenes
Andrew's character, Prior Walter, is a gay man living with the disease in a time when the rights of LGBTQ people were constantly threatened.
"It's a very important role," says the Oscar-nominated actor, who has been performing the role at London's National Theatre since May.
https://www.youtube.com/watch?v=DinEV8NqKR0
Warning: Third-party content, may contain ads
"To live through his experience on a daily experience is… the most meaningful thing I could ever do as an actor.
"I have personal relationships with people who are HIV positive and are living with it, and I feel very, very lucky that I get to serve people affected by this terrible plague."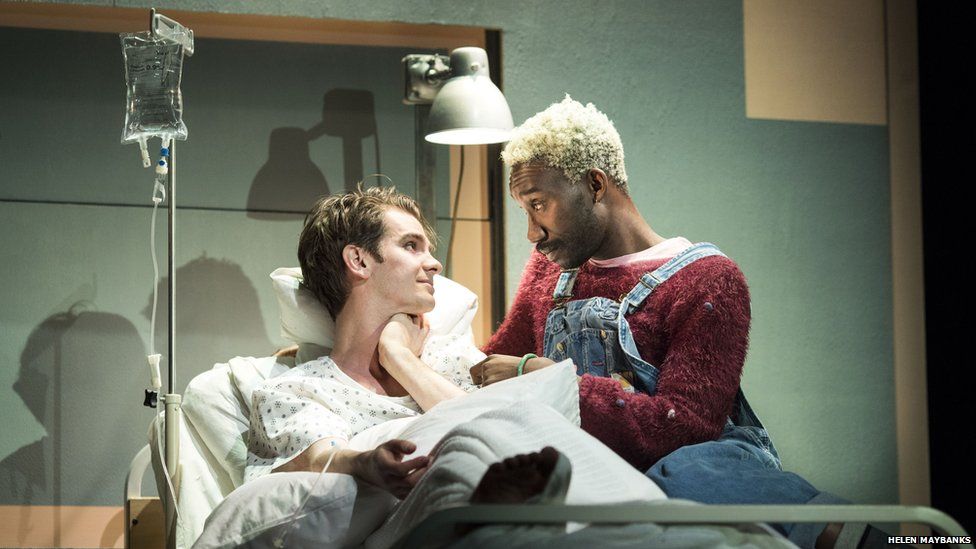 Image caption Andrew's character, Prior, is cared for through his illness by his friend Belize
About 35 million people have died of HIV/Aids worldwide since the virus was first identified in the early 1980s.
Today, around 37 million are living with the disease, which attacks the immune system, according to the World Health Organisation.
Angels in America features a number of gay characters who are struggling with accepting their sexuality, forming relationships and facing racism.
It also explores the politics of the era.
One of its central characters is Roy Cohn, a New York lawyer who was a real-life mentor to the current US president, Donald Trump.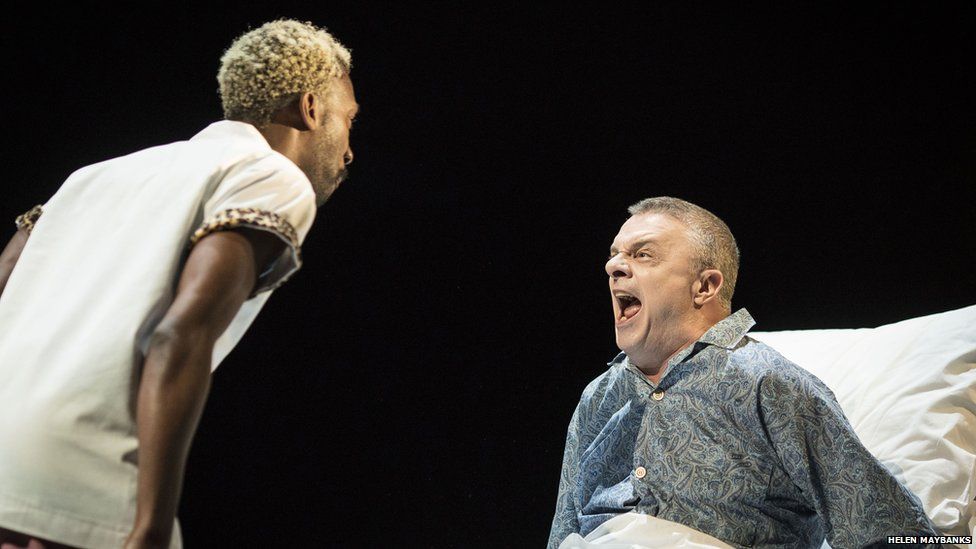 Image caption Nathan Lane (R) plays Roy Cohn, who was a mentor to US president Donald Trump
"What the play deals with is universal," says Andrew.
"Look at the man who is in the White House right now. This system [democracy] is failing humanity. Not just the LGBTQ community [but] anyone who is not a straight, white male."
Part one of the play will be screened in more than 2,500 cinemas worldwide live from the National Theatre on Thursday.
"It asks, 'What do we do when our lives are being threatened, [when] the powers that be don't deem our particular community worthy enough?'
"Prior has to create the new rules, which is no longer a patriarchal system," says the 33-year-old.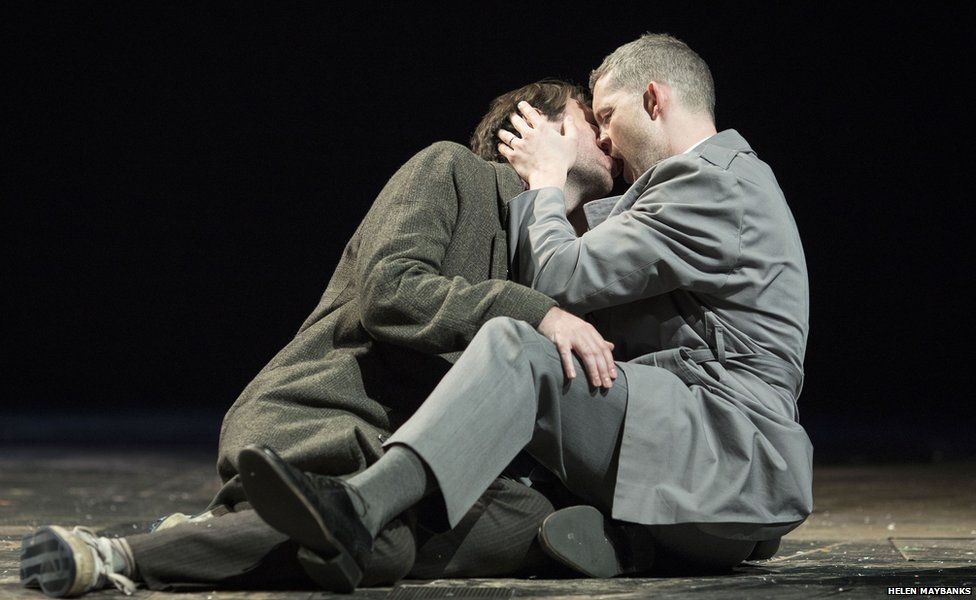 Image caption Angels also stars Russell Tovey (R) alongside James McArdle
The production, co-starring Russell Tovey, Denise Gough and Nathan Lane, and directed by War Horse's Marianne Elliott, has received five-star reviews.
Andrew says he's been touched by the messages of support and gifts he's had from audiences.
"I've been receiving a lot of tea, a lot of throat lozenges and very sweet notes that have come from people's hearts about how this play means so much to them.
"[They're] mostly from young people in the gay community, [saying] how this has been a catalyst in helping them come to terms with their own sexual orientation."
Angels in America will be broadcast live to cinemas across the UK and internationally as part of National Theatre Live with part one on 20 July and part two on 27 July.
Find us on Instagram at BBCNewsbeat and follow us on Snapchat, search for bbc_newsbeat
1
London
London News & Search
1 News - 1 eMovies - 1 eMusic - 1 eBooks - 1 Search