1
London
London News & Search
1 News - 1 eMovies - 1 eMusic - 1 eBooks - 1 Search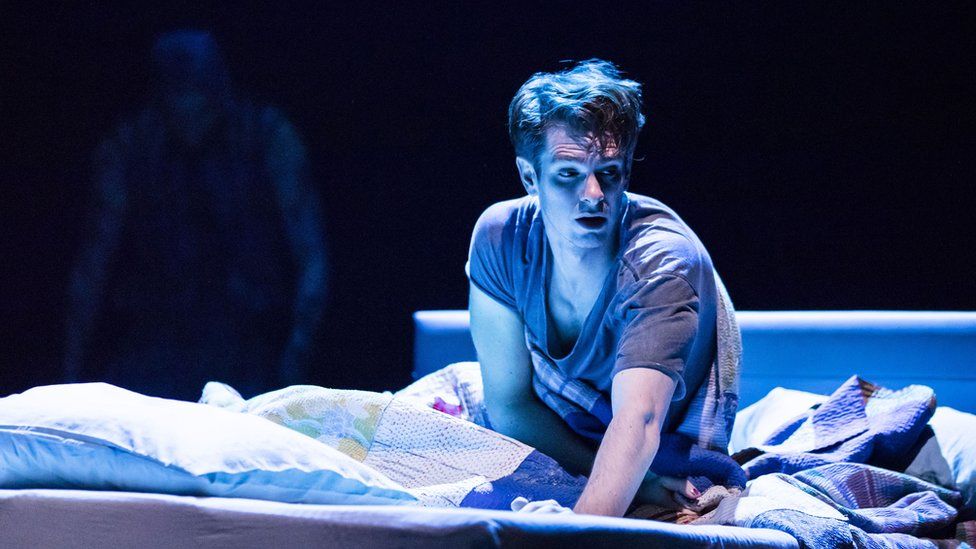 Image caption Photo: Helen Maybanks
Oscar-nominated actor Andrew Garfield is back in cinemas around the UK this week.
He takes the lead role in Angels in America, which is currently playing at London's National Theatre.
On Thursday, part one of the stage production will be broadcast live to more than 2,500 cinemas worldwide.
Newsbeat went backstage to meet the people transforming this epic show for the big screen.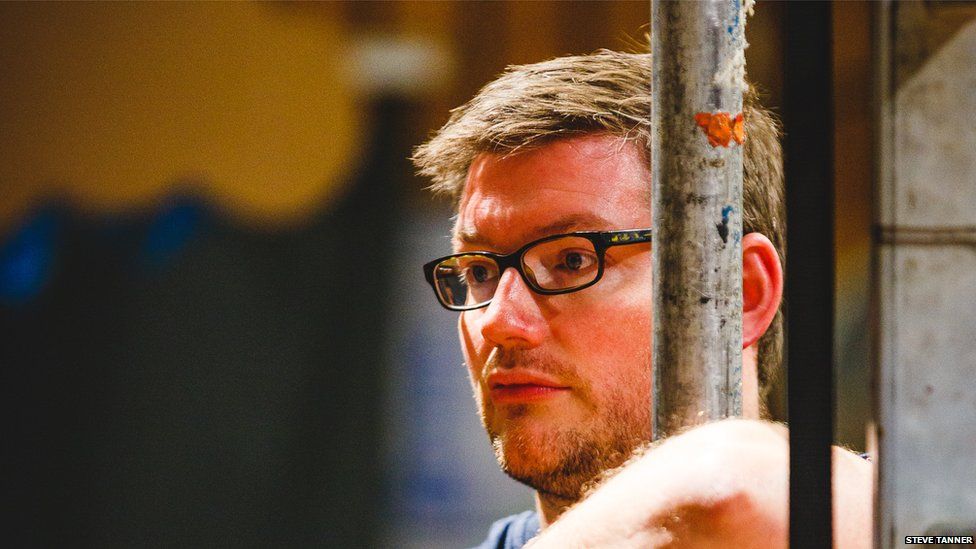 Image caption Stage manager Shane Thom
'I run the show'
The stage manager basically looks after everyone in the show, and Shane started preparing for this job over two years ago – before the actors were even cast.
"I make sure the show runs as it should, and I also have responsibility for looking after all the actors, making sure that they're alright and happy to perform."
Angels in America is split into two parts, each lasting over three hours.
On some days the actors perform both parts, which is very physically demanding.
"They might need treatments, like physiotherapy, osteopathy, so we can arrange that for them. They can have treatments here in the building," Shane tells Newsbeat.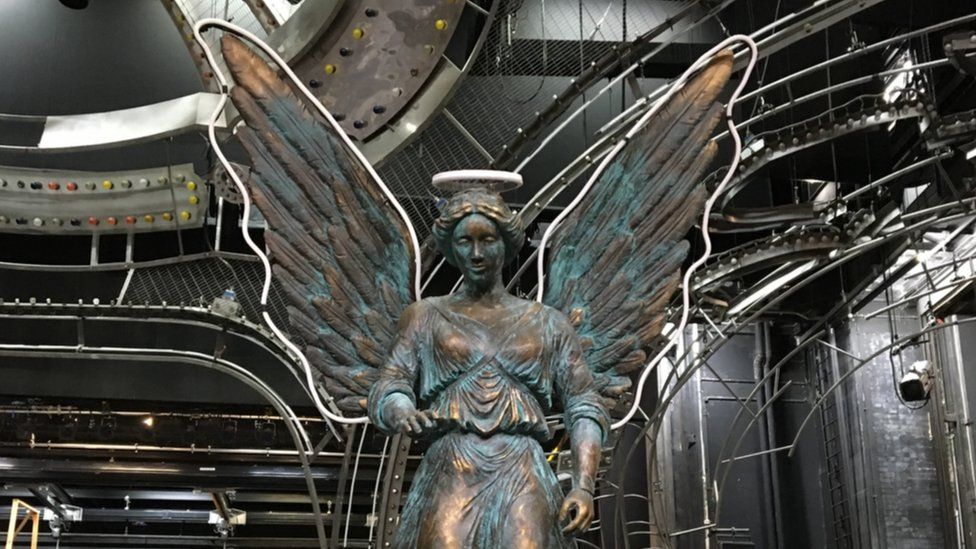 Image caption The angel with neon wings is one of the most important props
He also has to look after all the props, which range from everyday things like suitcases and telephones, to fantasy elements like furniture that lights up, neon beds, and elaborate puppets.
Shane works with a team of five stage managers.
"But also backstage there's a crew of eight to 11, then there's dressers and wig staff as well," he says.
"It's a constant flow of people. There's dressers coming and going with large items of clothing, all the actors rushing around to make their next entrances, there's crew running around with bit of furniture."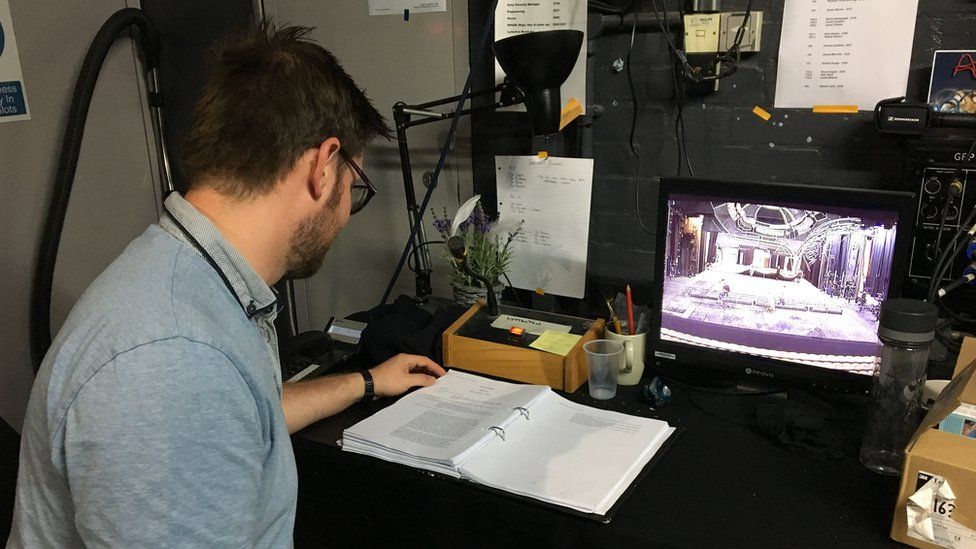 Image caption Shane watches the actors on a monitor backstage and reads the script to get his cues
He says there are plenty of sweets and chocolate backstage to keep everyone going through the show.
Shane's job won't be very different on Thursday when the show is in cinemas, but he says knowing it's being broadcast worldwide is scary.
"You get nervous because you play to 900 people every night here, but your audience suddenly grows to thousands across the world.
"It's one of the most amazing plays to be written, certainly in my lifetime. You never think you'd get the opportunity to work on an epic like this."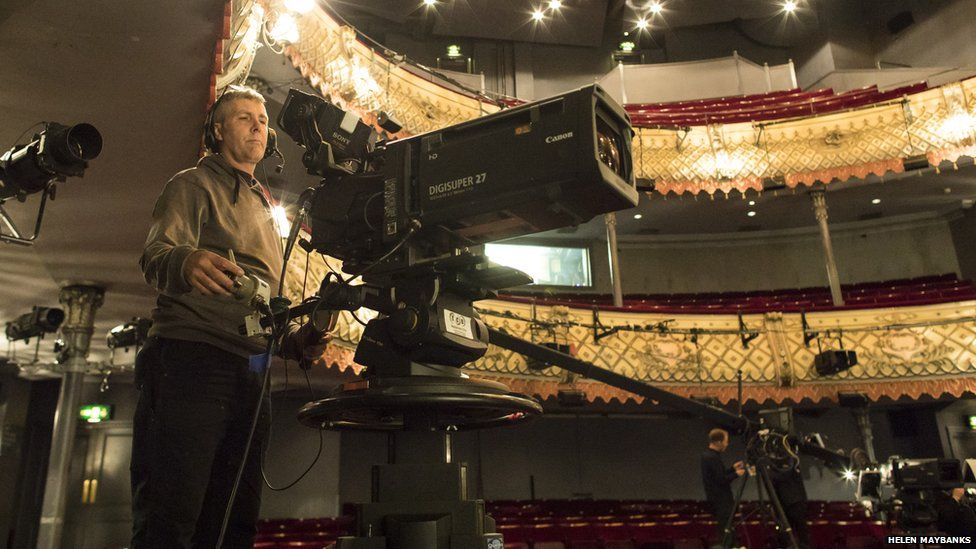 Image caption A camera operator filming for NT Live
'I choose which shots make it to the big screen'
"I want to give the cinema viewers the best seat in the house," says Bridget Caldwell, camera director.
"We can get all the close ups and tight shots, which you miss in the back row of the theatre. I've seen each play five times now, because each night is different."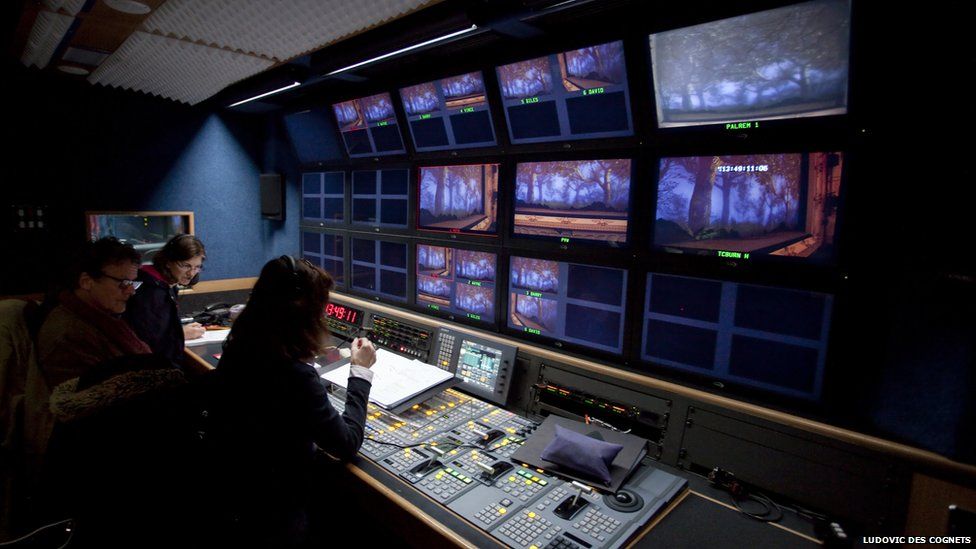 Image caption Editors control which shots are used
Six cameras will film Angels in America. Most are fixed in place among the live audience, and one will be on what's called a jib – an extending arm which allows Bridget to get sweeping shots of the stage.
"There are some amazing scenes where it starts snowing or raining, or the angel comes on, and you just want to stay [on a wide shot] because it's just so spectacular," explains Bridget, who has also directed the TV coverage of huge live events the Royal Wedding, and the burial of Richard III.
"I save the close ups for the big emotional moments.
"There are moments when the characters become ill and weaker, where it really does play out in their eyes."
Find us on Instagram at BBCNewsbeat and follow us on Snapchat, search for bbc_newsbeat
1
London
London News & Search
1 News - 1 eMovies - 1 eMusic - 1 eBooks - 1 Search