1
London
London News & Search
1 News - 1 eMovies - 1 eMusic - 1 eBooks - 1 Search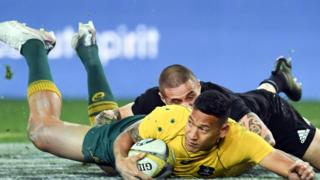 Members of the Australian national rugby union team have disagreed on Twitter over same-sex marriage as the country prepares to vote on the issue.
The spat came after 28-year-old player Israel Folau posted on Wednesday that he opposes same-sex marriage in a tweet liked almost 3,000 times.
The Wallabies player's comment was made the day after postal ballots were sent to voters in Australia for a non-binding vote on legalising same-sex marriage.
Mr Folau's own teammates were among those to object to his views.
"I love and respect people for who they are and their opinions, but personally I will not support gay marriage," Mr Folau said. He is known to be a devout Christian, who was raised as Mormon and converted to the Assemblies of God fellowship with his family in 2011.
Fellow player David Pocock, did not address Mr Folau directly, but disagreed. "I'll vote yes for justice and love," he tweeted.
Mr Pocock, who is known for his activism on social issues including homophobia, also tweeted a quote by Archbishop Desmond Tutu.
Wallabies coach Michael Cheika and captain Michael Hooper met with politicians earlier this week to show their support for the proposed legislation after other sporting organisations, including Australian Rugby Union, Cricket Australia and Football Federation Australia, also voiced their support for a Yes vote.
A poll released on Tuesday, and reported by Australian media, suggested that among those 'certain' to vote, 70% said they planned to vote yes.
Others weighed in on Mr Folau's tweet.
"Nobody is asking you to marry a man. A Yes vote shows respect for others who want the right to have their relationship treated equally," commented Deputy Lord Major of Sydney Kerryn Phelps.
You might also like:
Twitter user @T_Beucher320 also criticised Mr Folau.
Journalist Karina Hogan wrote, "it is fundamentally disrespectful to think you have the right to decide how others live their lives."
However, some pointed out Mr Folau is entitled to his opinion.
"You shared this knowing you'd come under fierce attack. Much respect," tweeted Gelina Mont, who works for Catholic social network Xt3.com.
But one person wondered why people care what a sportsperson thinks.
"Why worry about what a rugby player thinks? Why is his opinion even relevant?" asked @cutthroatwok.
1
London
London News & Search
1 News - 1 eMovies - 1 eMusic - 1 eBooks - 1 Search