1
London
London News & Search
1 News - 1 eMovies - 1 eMusic - 1 eBooks - 1 Search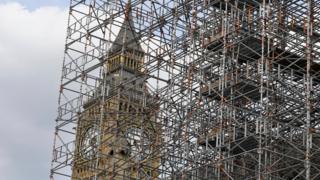 Theresa May says "it can't be right" for Big Ben's bells to be silenced until 2021 for renovation work.
The PM said Speaker John Bercow should "urgently" review the proposals.
The famous bell is to be dismantled – except for special occasions – for four years on Monday to allow repairs to the surrounding Elizabeth Tower to take place.
Parliamentary authorities say the move is needed to protect workers carrying out the renovations.
Asked about the decision – which has been strongly criticised in some sections of the press – Mrs May said: "Of course we want to ensure people's safety at work but it can't be right for Big Ben to be silent for four years.
"And I hope that the Speaker, as the chairman of the House of Commons Commission, will look into this urgently so that we can ensure that we can continue to hear Big Ben through those four years."
The Commons Commission is responsible for maintenance of the Palace of Westminster.
Lib Dem MP Tom Brake, a member of the commission, has written to the Commons director general asking for a rethink.
"I have asked whether someone can do some work working out what the costings and the practicality of ringing them more frequently would be," he said.
"It would not be possible for them to continue to be rung every 15 minutes as is currently the case, that would not be practical, but it may be perhaps practical and it may be financially viable to ring them more frequently than is currently being proposed."
The £29m restoration was signed off in 2015 by the Commons Administration Committee, which advises the commission, as well as the Lords Administration and Works Committee and the Commons Finance Committee.
'Serious risk'
But Mr Brake said MPs did not know the full extent of the shutdown when they agreed the repair plans.
Last year the House of Commons said the bells would have to be switched off for "several months" to allow the repair work to take place.
On Monday, it was revealed this would involve a much longer period of silence, with the bells only being switched back on for important events like New Year and Remembrance Sunday.
This led to press criticism, and Brexit Secretary David Davis described the move as "mad".
Defending itself, Parliament said that "prolonged exposure to the chimes would pose a serious risk to the hearing" of those working on the project.
1
London
London News & Search
1 News - 1 eMovies - 1 eMusic - 1 eBooks - 1 Search