1
London
London News & Search
1 News - 1 eMovies - 1 eMusic - 1 eBooks - 1 Search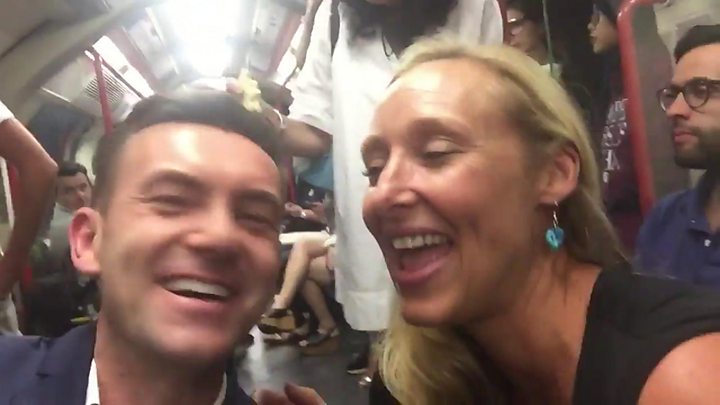 Two former Blind Date contestants have had an unexpected reunion on a London Tube train – 25 years on.
Howard Griffiths could not believe it when Brigette Bard approached him to ask if he was the man who had picked her on the ITV show hosted by Cilla Black in October 1992.
Howard recorded the Central Line encounter on his phone, and a tweet of the video has since gone viral.
They now plan to meet for a proper catch-up in the coming weeks.
"I said 'It's not… Oh my god – you're not Bridget, or Brigette as Cilla used to say?'" Howard, 48, told BBC News.
"She hadn't changed, she looked amazing."
He added: "Thinking about it now, I don't know why I didn't stay on the Tube but it was my stop. It was like a scene from a film. Everyone on the Tube was saying: Don't go!"
'Small world'
For her part Brigette, 45, has described being "completely astounded" by their latest meeting.
She says she recognised Howard within "literally a few seconds", but it took her a moment to remember where they had met.
Back in 1992, the couple spent a romantic weekend in Germany, travelling on the oldest double-decker aircraft, watching horse races and gambling, but, despite speaking on the phone a few weeks later, nothing blossomed.
In the intervening years, she has had three children, but they are now both single once again.
Luckily, they exchanged phone numbers before Howard dashed from the Tube.
"You won't believe this! Just randomly met Brigette who I picked on ITV Blind Date 25 years ago, on the Central Line #SmallWorld," he wrote in his Tweet.
When the media began to express interest in their reunion, he rang Brigette to let her know and they ended up agreeing to meet soon.
Both have expressed enthusiasm for keeping in touch.
"I want to find out everything that's happened in the last 25 years," Howard said.
Cilla's note
The pair's appearance on Blind Date was hailed by fans as one of the show's best episodes.
Howard said the audience "went crazy" for them and Cilla Black, whose hosting of Blind Date became an iconic part of the show, was in "hysterics" over their banter.
He said Cilla sent a handwritten note backstage after the show to thank him for his appearance, explaining she "really, really enjoyed it".
Howard says he originally chose Brigette – who, according to the show's format, he could not see because she was seated behind a screen – because they had managed to exchange a conversation in Welsh and Italian.
And the video of the latest meeting shows he managed to reprise the memories of the day by repeating the phrase he said to her in Italian all those years ago: "I would like to be able to speak Italian fluently".
1
London
London News & Search
1 News - 1 eMovies - 1 eMusic - 1 eBooks - 1 Search