1
London
London News & Search
1 News - 1 eMovies - 1 eMusic - 1 eBooks - 1 Search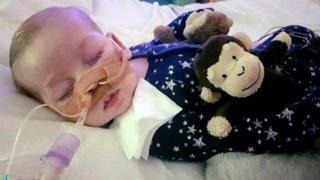 Staff at Great Ormond Street Hospital (GOSH) have received death threats over the treatment of Charlie Gard.
In a statement, the hospital said the police had been called after families were "harassed" and "unacceptable behaviour" recorded in the hospital.
GOSH is involved in a legal battle to remove life support from Charlie who has a rare genetic disorder.
Charlie's parents, Connie Yates and Chris Gard, want to take the 11-month-old to the US for pioneering treatment.
Charlie, who was born on 4 August 2016, has a form of mitochondrial disease, a condition that causes progressive muscle weakness and brain damage.
His parents have lost a succession of court cases to overturn the GOSH's decision that it would be in the child's best interests to be allowed to die with dignity.
Mary MacLeod, chairman of Great Ormond Street Hospital, said Charlie Gard's case was "a heartbreaking one", adding the hospital understood the "natural sympathy people feel with his situation".
"However, in recent weeks the GOSH community has been subjected to a shocking and disgraceful tide of hostility and disturbance," Ms MacLeod said.
She added: "Staff have received abuse both in the street and online.
"Thousands of abusive messages have been sent to doctors and nurses whose life's work is to care for sick children.
"Many of these messages are menacing, including death threats.
"Families have been harassed and discomforted while visiting their children, and we have received complaints of unacceptable behaviour even within the hospital itself."
Ms MacLeod, who also chairs the hospital's Clinical Ethics Committee, said "there can be no excuse" for patients, families and staff "to have their privacy and peace disturbed".
1
London
London News & Search
1 News - 1 eMovies - 1 eMusic - 1 eBooks - 1 Search