1
London
London News & Search
1 News - 1 eMovies - 1 eMusic - 1 eBooks - 1 Search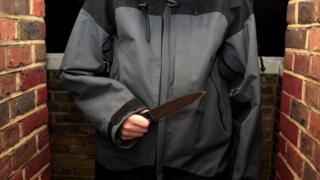 Councils are calling for tougher sentences for illegal knife sales after tests showed retailers selling weapons to children as young as 13.
The Local Government Association said council crackdowns in England and Wales had revealed "shocking abuses".
In the south-west of England nearly one in four shops tested had broken the law, with one teenager sold a machete.
Retailers currently face six months in jail or fines of up to £5,000 for underage knife sales.
In a series of test purchases by trading standards officers and police in Devon and Somerset, seven out of 29 shops sold under-18s blades ranging from machetes and lock knives to kitchen knives.
London trading standards officers and police found that out of 725 test purchases last year, 96 sold blades to children as young as 13.
Tougher sentences
A major supermarket chain was among the retailers found selling razor blades or craft knives to teenagers in tests by trading standards officers and police in Greenwich.
It is illegal to sell a knife to anyone under 18, unless it has a folding blade which is 3 inches long or less, except in Scotland, where 16 to 18-year-olds can also buy cutlery and kitchen knives.
Cllr Simon Blackburn, chair of the LGA's safer and stronger communities board, said: "Despite most retailers passing test purchases of knives, trading standards teams at councils across the country are uncovering some shocking abuses of the law."
It comes after the latest figures from the Office for National Statistics showed a 20% rise in knife crime. Police recorded 34,703 offences in the year to March 2017 – 5,800 more than the previous year.
The ONS described offences involving knives as "low volume but high harm".
Cllr Blackburn said urged the retail industry to work more closely with councils and police and called for it to fund trading standards test purchases to prove sellers are complying with the law.
"Tougher sentences, including larger fines, are also needed to reflect the seriousness of selling knives to children," he said.
He although culprits could be jailed or given a maximum £5,000 fine, "we frequently see much lighter sentences handed down by the courts".
'Tragic consequences'
Home Secretary Amber Rudd has announced plans to ban knives bought online from being delivered to home addresses, forcing customers to collect their purchase and show ID.
The decision followed the recommendations of an inquiry into the fatal stabbing of schoolboy Bailey Gwynne in Aberdeen in 2015.
But Cllr Blackburn said the LGA's evidence showed that there was a continuing need for tougher enforcement on the high street too.
"Knives are lethal weapons in the wrong hands and it's vital that shops do all they can to prevent them falling into the hands of young people because just one illegal knife sale could have tragic consequences," he said.
"Knife crime has risen significantly in the past year. Clearly there are many different ways that people access knives, whether from home, high street stores or online sales, but we need to make sure that the retail supply of knives is managed robustly across all sales points."
Patrick Green, manager of the Ben Kinsella Trust, set up in memory of a schoolboy fatally stabbed in north London in 2008, said: "It's really important that we make knives hard to get.
"It sends a strong message to young people that carrying a knife is not a normal thing to do, that buying a knife is not a normal thing to do. That's why responsible retailing around knives is so important."
1
London
London News & Search
1 News - 1 eMovies - 1 eMusic - 1 eBooks - 1 Search