1
London
London News & Search
1 News - 1 eMovies - 1 eMusic - 1 eBooks - 1 Search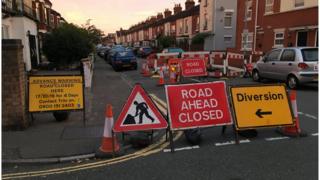 Councils in England would be allowed to charge utility companies by the hour for roadworks which cause significant disruption, if government proposals are approved.
The plan aims to halve the delays motorists endure due to utility works.
Roadworks cost the economy £4bn a year due to delayed deliveries and people being unable to get to work on time.
The proposals follow successful trials in London and Kent which saw severe congestion fall by more than 50%.
'Lane rental'
The charges aim to encourage utility companies to avoid busy routes and times, and to work together to avoid repeatedly digging up the same piece of road.
The London trial saw firms co-ordinate their roadworks more than 600 times.
Companies could avoid the charges, also known as lane rental schemes, by carrying out works in the evening or at weekends.
Councils currently issue permits for roadworks, but the government believes the new scheme would give them greater control and monitoring powers.
Transport Secretary Chris Grayling said: "Delays caused by roadworks can be the bane of drivers' lives – especially when they take place at rush hour on busy routes.
"These proposals would give councils greater powers to ensure utility companies avoid carrying out works at the busiest times and on the most popular routes.
"This would not only improve journeys and cut congestion but also save businesses from the increased costs they incur as a result of traffic on our roads," Mr Grayling said.
The rollout is part of a government plan to give councils more ways to manage roadworks, with the aim to support the delivery of wider national infrastructure projects.
Bob Gallienne, chief executive of the National Joint Utilities Group (NJUG), criticised the proposals, saying: "Utilities companies are delivering the infrastructure that the UK needs to drive up productivity, create economic growth and deliver on government priorities such as broadband and new homes.
"Lane rental schemes make it harder for utilities companies to deliver vital infrastructure and value for money for consumers while minimising disruption."
'Keep traffic moving'
The Local Government Association (LGA) said it was "delighted" that the government had answered its calls for such powers.
LGA transport spokesman Martin Tett said: "Councils are on the side of frustrated motorists who find themselves spending wasted hours held up in tailbacks.
"We're confident these new measures will help minimise delays from roadworks, and keep traffic moving on our local roads.
"It is crucial that councils are given these powers without lengthy national approval mechanisms, so they can ensure critical roadworks are carried out as quickly as possible.
"The sooner councils are allowed to get on top of this problem the better."
AA president Edmund King said lane rental was a "positive step".
"We hope that collaboration and cooperative work plans between service providers will now be standard practice," he said.
"One issue that we hope is resolved with lane rental is making sure that whoever digs up the road returns it back in a good state.
"It wouldn't be acceptable for the road to be patched up quickly and poorly, just to try and keep within their rental period."
Speaking to BBC Breakfast, Lord Callanan, parliamentary under-secretary of state for the Department for Transport, said that local authorities will inspect the work and "there's been no evidence of any shoddy workmanship" in the trials so far.
He said: "The idea is that hopefully at the end of the day we won't be raising much money through this, because they will do the work faster or at quiet times.
"But any money that is raised will have to go back to the local authorities and be spent on other measures to reduce congestion."
The consultation on the proposals will last for eight weeks and the changes would come into effect by 2019.
1
London
London News & Search
1 News - 1 eMovies - 1 eMusic - 1 eBooks - 1 Search