1
London
London News & Search
1 News - 1 eMovies - 1 eMusic - 1 eBooks - 1 Search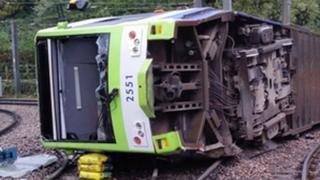 Tram drivers are voting on whether to take industrial action over plans to introduce a device to detect if a driver has fallen asleep.
The Aslef union said its members had not been consulted over the introduction of a camera which would be focussed on drivers' faces.
Transport for London said the device would improve safety following on from last November's fatal crash in Croydon.
The tragedy saw seven people killed and 51 injured when a tram overturned.
An interim accident report found the tram was travelling at 46mph as it entered a sharp bend at Sandilands Junction, which had a 13mph limit.
The late application of brakes and the absence of emergency braking suggested the driver had "lost awareness", according to the Rail Accident Investigation Branch (RAIB).
Finn Brennan, Aslef officer for the tram network, told the Croydon Advertiser: "The decision to choose this system and start to install it without any discussion with staff or trade unions showed complete disregard for the views of their drivers.
"Aslef want to see the introduction of new technology that can prevent accidents, but there is no evidence that the system Tramlink are putting in would have done anything to prevent the terrible tragedy at Sandilands."
Tram Operations Limited, which operates the service, said it was in ongoing discussions over the introduction of the device.
Rory O'Neill, Transport for London's director of trams, said: "Since last November's tragic incident a number of additional safety measures to the tram network have been introduced, and we are currently working on further improvements.
"We are committed to improving safety for drivers and customers on the tram network and encourage the unions to continue working constructively with First Group to do so."
About 70 passengers were on the two-carriage tram when it came off the tracks, overturned and slid for 25 metres.
The driver, Alfred Dorris, 42, from Beckenham, south-east London, was arrested at the scene and questioned on suspicion of manslaughter.
He has been bailed until September.
1
London
London News & Search
1 News - 1 eMovies - 1 eMusic - 1 eBooks - 1 Search