1
London
London News & Search
1 News - 1 eMovies - 1 eMusic - 1 eBooks - 1 Search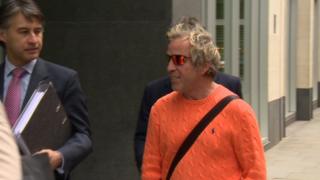 A developer who sold luxury houseboats that were unlawful to live on has been ordered to pay back nearly £2m to buyers he misled.
Myck Djurberg claimed two boats he sold on the Thames near Hampton Court had mooring licences for up to 125 years.
However, the sites did not have permission for residential properties.
Djurberg was ordered to pay back the £1.8m for two houseboats by the High Court for misrepresentation and breach of contract.
The buyers are now able to apply for further damages to be paid following the judgement.
The court found that Djurberg led his clients to believe extended mooring licences were included in the price of two custom-built luxury houseboats.
But the court found there was "no public right by which they could lawfully moor their houseboats for permanent or residential use" on the site.
After sales were completed on the two properties, Djurberg began asking for mooring fees of up to £250 a day.
Jennifer Small, who paid £1.25m for a three-story houseboat, said: "It felt like all of a sudden the world had turned upside down. We sank into a pit of despair."
Fiona Johnstone was only able to live on board her £850,000 houseboat for five-and-a-half weeks before a council official told them they had no mooring rights to live at their current location.
Mrs Jonstone said buying the houseboat had been "absolutely traumatic" and had "affected our health".
"I just want [Djurberg] out of my life, I want to wake up and not have to think about him ever again," she told the BBC.
Both boats are too large to navigate parts of London's waterways, and could cost up to £500,000 to moor.
Handing down the judgement, Murray Rosen QC described Djurberg as an "unusual man, with a complex relationship with the truth".
During the court case, Djuberg, who had changed his name from Salavado Priost, said he had gained a PhD in Economics in Portugal, though the judge noted he was "seemingly unclear as to his university".
Throughout the case Djurberg maintained he had done nothing wrong and claimed there were "historic rights" to live at the marina. The judge dismissed that claim.
1
London
London News & Search
1 News - 1 eMovies - 1 eMusic - 1 eBooks - 1 Search