1
London
London News & Search
1 News - 1 eMovies - 1 eMusic - 1 eBooks - 1 Search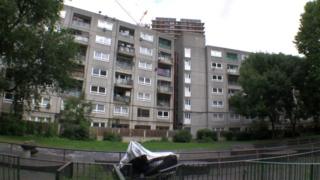 A south-east London estate was fitted with gas even though it was vulnerable to collapse if there was ever an explosion, experts claim.
Surveyors found blocks at Lethbridge Close were not strengthened, although this was required on buildings of a similar construction to Ronan Point which partially collapsed in 1968.
A fire safety expert said gas should not be in the buildings.
Lewisham Council said it took "residents' safety very seriously".
Tests are also to be carried out at two other London estate blocks to find out if they are safe enough to have gas.
The government ordered strengthening works to take place after four people were killed in the gas explosion at Ronan Point in Canning Town.
Following the Grenfell fire, a number residential blocks in the capital were found to have structures that may not be safe for gas.
Last week Lewisham Homes received a surveyor's report revealing the blocks in Lethbridge Close had not been strengthened.
Fire safety expert Arnold Tarling said it was "appalling that people are being put at risk".
Terry Doran, who has lived in Lethbridge Close for 21 years, said he had never felt safe with gas and it "shouldn't be in these blocks".
A council spokesperson said Lewisham was "working with residents living in Lethbridge Close".
They added that many have already being moved into new homes "as the blocks are being demolished during the final phase of our £270m estate regeneration scheme".
Additional tests are also to take place at Broadwater Farm in Haringey and Lisson Grove in Westminster although both councils say the blocks are safe for gas.
A spokesperson for Homes for Haringey said strengthening work had been carried out at Broadwater Farm following the Ronan Point disaster but more tests would be carried out to "determine whether any further safety measures may be necessary".
Westminster City Council said the buildings at Lisson Grove were found to be "able to withstand abnormal pressure from a gas blast" but additional checks would take place "to provide reassurance".
In August residents of the Ledbury estate in Southwark were told they would have to move out after tests found the structure was not strong enough to cope with a gas explosion.
1
London
London News & Search
1 News - 1 eMovies - 1 eMusic - 1 eBooks - 1 Search