1
London
London News & Search
1 News - 1 eMovies - 1 eMusic - 1 eBooks - 1 Search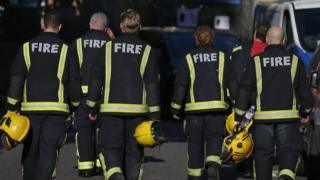 The number of UK fire and rescue staff taking long-term sick leave due to mental illness has risen by nearly a third over the last six years, figures show.
In London, the figure has doubled since 2011-12.
Some 103 London fire staff have taken mental health leave this year, some after working at Grenfell Tower.
The Home Office said it was the responsibility of fire services to put wellbeing services in place.
Two-thirds of fire services provided data following a Freedom of Information request submitted by 5 live Investigates.
They reveal the number of firefighters and other staff taking long-term mental health leave rose from 600 to 780 over the last six years. At least 126 staff have left the service due to mental health issues since 2011.
The Scottish Fire and Rescue Service and Northern Ireland Fire and Rescue Service only provided comparable figures for one full year.
In 2016-17, 97 Scottish fire staff took long-term mental health sick leave while in Northern Ireland that figure was 111.
Andy Graham, 52, is a former firefighter, who served in the Greater Manchester Fire and Rescue Service. He has suffered from PTSD for the last 30 years.
Mr Graham, who has a son and a daughter, retired last year and now trains others in mental health first aid.
"When I started in the fire service in 1987 there was no proper debriefing system in place," he explained.
"The first fatal incident I attended was a particularly traumatic suicide.
"Within a matter of weeks, I started suffering from nightmares and panic attacks, and it snowballed from there, after attending more fatal incidents."
He said that he was afraid to go to bed at night because of the nightmares.
"It meant I started staying up late, drinking alcohol to help me sleep.
"Through the daytime, there would be triggers that would set me off having flashbacks and panic attacks. Those triggers were blue lights, sirens, loud bangs. Seeing certain situations being depicted on TV even would set me off."
Suppressed issues
His son, John, was only five when his father had a breakdown.
"It's horrible to bring it back, being so young and coming through the front door and seeing your dad lying on the couch with a blank look on his face, someone that you're so used to being bubbly and happy, and he doesn't even say hello to you."
Andy explained that he tried to keep a lid on his issues for years.
"But they were always there, bubbling under the surface. When you're in the fire service, you're told that you're the strong one, the one there to help others.
"So it goes really against the grain to be asking for help.
"I've been in therapy four times now, and I'm in a better place than I have been for 29 years.
"Fire services have better debriefing systems than they used to, but the support is not where it needs to be yet."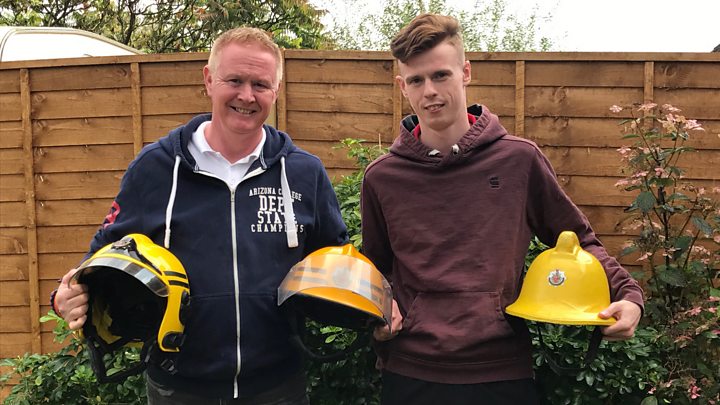 Richard Welch, London Fire Brigade commander for Lambeth said that following the incident at Grenfell Tower, 200 of their staff have received counselling – and that 80 were still seeing counsellors.
Sean Starbuck, mental health lead for the Fire Brigades Union said: "The stigma attached to mental health needs to be consigned to the bins of history where it belongs. It's not going to get there on its own.
"Fire services need to create an environment where firefighters feel able to disclose if they are suffering as a result of traumatic scenes they witness as part of the job.
"At the moment it appears many are unable to."
Faye McGuinness, programme manager for mental health charity Mind's Blue Light programme, said: "Our survey of over 1,600 staff and volunteers across emergency services shows nearly nine in 10 have experienced stress, low mood or poor mental health while working in their current role.
"A shocking one in four told us that they had contemplated taking their own lives.
"Not everyone involved in a traumatic event will develop post-traumatic stress disorder. It can take a long time – sometimes years – for symptoms to emerge."
Fire service responsibility
A Home Office spokesperson said: "It is the responsibility of fire and rescue services to have wellbeing services in place that meet their workforce needs.
"The government has provided an additional £1.5m to pay for mental health support through Mind's Blue Light Programme to ensure our emergency services workers have the counselling and emotional support they require."
Ann Millington of the National Fire Chiefs Council (NFCC) said the increase could reflect a change in behaviour with more firefighters prepared to seek assistance. She said fire and rescue services had put a lot of work into ensuring help and support are available to staff and they were working hard to reduce the stigma around mental health issues.
She added: "The days following the Grenfell fire saw a lot of open discussion about support being made available to firefighters and firefighters openly discussing it. The fact that people were talking about it openly and willing to accept help is an encouraging sign for the wider fire sector."
A spokesperson for the London Fire Brigade said: "The welfare of staff is of paramount importance to the brigade. Our counselling and wellbeing service provides accredited counselling to all staff to help with their psychological wellbeing.
"Firefighters can and do see some traumatising things and it is important to give them the support they need and for them to know that there are always people available to listen to them.
"Seeing an increase in the number of people coming forward because they need help is positive, as rather than suppressing their feelings, staff want to seek help and use the services available to them."
The service says that of the 103 staff members identified in 5 live's FOI figures, five were as a result of the Grenfell Tower disaster.
All of these staff members are continuing to receive occupational health and counselling support.
---
5 live Investigates: Firefighter Mental Health is broadcast on BBC Radio 5 live on Sunday, 17 September at 11:00 BST. If you missed it you can catch up on the iPlayer.
Is there something you want investigating? We want to hear from you. Email us.
1
London
London News & Search
1 News - 1 eMovies - 1 eMusic - 1 eBooks - 1 Search