1
London
London News & Search
1 News - 1 eMovies - 1 eMusic - 1 eBooks - 1 Search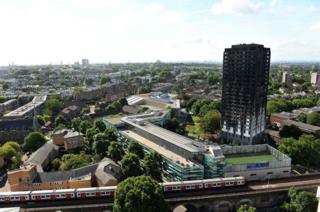 London's fire commissioner says the Grenfell Tower blaze must be a "turning point", calling for sprinklers in all high rise council flats.
At least 80 people died when fire engulfed the west London block in June.
A BBC investigation which focussed on half the UK's council and housing association-owned tower blocks found that just 2% have full sprinkler systems.
Of those, 68% have just one staircase through which to evacuate.
A public inquiry will look at the causes of the fire, the adequacy of high-rise regulations, Grenfell Tower's refurbishment, and the actions of public authorities before and after the blaze.
The inquiry will hold its first hearing on Thursday, with an initial report by Easter.
The Department for Communities and Local Government says it will consider whether to retrofit sprinklers based on the inquiry's recommendations.
Dany Cotton, commissioner of the London Fire Brigade, said: "I think Grenfell should be a turning point.
"I support retrofitting – for me where you can save one life then it's worth doing.
"This can't be optional, it can't be a nice to have, this is something that must happen.
"If that isn't one of the recommendations (of the Grenfell Tower inquiry) then I will be so very disappointed."
In 2007, sprinklers were made compulsory in new-build high rises over 30 meters tall in England.
This requirement wasn't applied retroactively so did not apply to Grenfell Tower, which was built in 1974.
Croydon Council, in south London, has taken the decision to retrofit sprinklers in its 25 high rise blocks at a cost of £10m.
Councillor Alison Butler, Croydon's deputy leader and cabinet member for homes, regeneration and planning, said: "Grenfell changed everything. It was horrifying.
"It brings home to you as a council that there are a lot of things you do, but this one is about saving lives."
The council says the Department of Communities and Local Government failed to offer any financial support to install sprinklers when the council requested it earlier this year.
In a letter to the council, Housing Minister Alok Sharma said "It is the landlord's responsibility to ensure people are safe, and cost considerations should not get in the way of this."
He did say support would be provided to prevent crucial safety work from falling through on cost grounds.
After the inquest into the Lakanal House fire, coroner Frances Kirkham recommended the government "encourage" housing providers to retrofit sprinkler systems in high rise flats.
Six people were killed in the fire in Southwark, London, in July 2009.
Alan Brinson, executive director of campaign group the European Fire Sprinkler Network, said that sprinklers can significantly reduce fire deaths.
"Nothing compares to them in saving lives," he said.
Evidence from the US shows that deaths per thousand reported fires were 87% lower where sprinklers were fitted.
---
Major fires in high rises with sprinklers in which nobody died
Marina Torch Tower, Dubai: 2015 and 2017
The Address, Dubai: 2015
Lacrosse Building, Melbourne: 2014
Polat Tower, Istanbul: 2012
Monte Carlo Hotel, Las Vegas: 2008
---
In Wales, all new homes built from 2016 now have to be fitted with sprinkler systems.
Ann Jones, Labour AM for the Vale of Clywd, pushed reforms through the Welsh Assembly.
"After 30 years in the fire service, I saw many firefighters coming back from incidents of fires where they had lost people, and the devastation that that causes," she said.
"I decided I was going to try to put in a system that would help fire safety, and for me, sprinklers in all new build homes was that opportunity."
Scotland also has stronger regulation than England, with new residential buildings taller than 18m requiring sprinklers.
BBC research found that 30% of the blocks investigated had some kind of cladding, though not the same ACM cladding that played a role at Grenfell.
Some of this cladding will have passed safety tests, and some will still be undergoing checks.
Mayor of London, Sadiq Khan said: "The results from the BBC investigation should be a source of concern to us all."
"The Grenfell public inquiry must report as soon as possible so that action can be taken."
A spokesman for the Department for Communities and Local Government said: "Public safety is paramount.
"Following the Grenfell Tower tragedy, the government established a comprehensive building safety programme to ensure a fire like this can never happen again."
"This included commissioning an independent review of building regulations and fire safety. We will consider this issue in light of the recommendations of this review and the findings of the Public Inquiry."
The BBC questioned 56 local authorities and housing associations in towns and cities across the UK with requests under the Freedom of Information act, for high rise properties for which they hold the freehold.
These responses covered about half of the UK's estimated 4,000 tower blocks.
1
London
London News & Search
1 News - 1 eMovies - 1 eMusic - 1 eBooks - 1 Search