1
London
London News & Search
1 News - 1 eMovies - 1 eMusic - 1 eBooks - 1 Search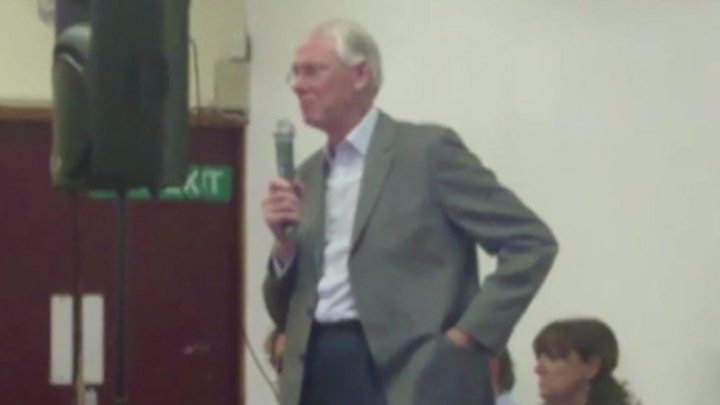 The retired judge who will head the inquiry into the Grenfell Tower block fire has faced angry residents and survivors in a three-hour long meeting.
A video of the meeting shows Sir Martin Moore-Bick saying he would "find the facts as I see them from the evidence".
Joe Delaney, of the Grenfell Action Group, told the BBC that Sir Martin was not jeered or booed, but people were sceptical about him.
He has already faced calls to step down just days after being appointed.
Sir Martin said he had been invited to the meeting on Thursday by the Lancaster West Residents Association.
He described it afterwards as a "very useful meeting".
Mr Delaney told BBC Radio 5 live that Sir Martin: "You could hear people sighing and tutting."
"It got a bit loud before the end. I have heard public speakers who can shut up a stadium full of thousands of people. This man couldn't hold a room with 200 or so people."
Local resident Melvyn Akins, 30, said there had been "frustration, anger and confusion" in the meeting.
"People firmly believe that arrests should be made as a result of the outcome of all of this. If arrests are not made, people are going to feel justice may not be being done."
A short video of Sir Martin, recorded at the meeting, shows him telling those present: "I can't do more than assure you that I know what it is to be impartial.
"I've been a judge for 20 years, and I give you my word that I will look into this matter to the very best of my ability and find the facts as I see them from the evidence.
"That's my job, that's my training, and that's what I intend to do. Now if I can't satisfy you because you have some preconception about me as a person, that's up to you."
A consultation with residents to help define the scope of the inquiry into the 14 June fire in west London, in which at least 80 died, is due to end next Friday.
Some survivors are calling for a delay of up to six weeks so they can seek legal advice.
However, government officials said Sir Martin was not currently "minded" to extend the consultation period.
Kensington's Labour MP Emma Dent Coad has described Sir Martin as "a technocrat" who lacked "credibility" with victims and should step down.
But Prime Minister Theresa May said she believed it was "important" that the inquiry was "judge-led", and said it would "address the issues that the residents and victims of this terrible fire want to see addressed".
Labour councillor Robert Atkinson, of Kensington and Chelsea Council, called on Sir Martin to publish regular updates to residents to take them through the inquiry.
"The judge has got to learn to take heckling from upset people," he said.
"I don't think judges are used to being shouted at – and the residents have got to understand that there are constraints on the timing on what the judiciary can do.
"Let's judge the judge by what he does in the next few weeks."
Meanwhile, a team of outside consultants has confirmed to the Victoria Derbyshire programme that it was employed as the clerk of works to carry out checks on Grenfell Tower as recently as July last year.
The company, John Rowan and Partners, received four payments totalling £17,000 to carry out mechanical and engineering inspections and checks on the fabric – or material used – on the building, between March and July 2016.
According to documents filed with Kensington and Chelsea Council, the firm acted in a site-monitoring and supervision role on the project for at least 26 days last year.
It is understood the work, which started in January 2015, included making visual inspections, attending meetings and compiling a list of minor defects for the contractor, Rydon, to rectify.
Fire tests
John Rowan and Partners said in a statement that it had been deeply shocked by the fire, adding: "We provided a site-monitoring role during the refurbishment work that completed in 2016.
"The scope for this work included making visual inspections, attending meetings as required by the client and the snagging of works after the contractor has informed that works have been snagged by them."
Separately, cladding samples which failed safety tests in the wake of the fire will be subjected to further "large-scale" testing – including building a 30ft-high (9m) demonstration wall to subject the material to a "severe fire".
Urgent tests were ordered on cladding from about 600 towers blocks in England after the blaze, but after 190 samples out of 191 failed, more tests were requested.
Notting Hill call
Elsewhere, Minister for London Greg Hands has called on Mayor Sadiq Khan to consider moving the Notting Hill Carnival following the fire.
Mr Hands tweeted a letter, in which he wrote: "The carnival is an important and symbolic community celebration in our capital's calendar… clearly it must go ahead.
"However, we have to ask ourselves if it is appropriate to stage a carnival in the near proximity of a national disaster."
Responding on Twitter, Mr Khan wrote: "Notting Hill Carnival is a firm London tradition and incredibly important to the local community. It should not be moved."
Get news from the BBC in your inbox, each weekday morning
1
London
London News & Search
1 News - 1 eMovies - 1 eMusic - 1 eBooks - 1 Search