1
London
London News & Search
1 News - 1 eMovies - 1 eMusic - 1 eBooks - 1 Search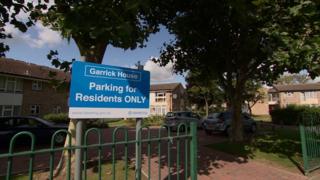 The insulation used at Grenfell Tower – which releases cyanide if burned – is installed at sheltered accommodation in east London, the BBC has learned.
Celotex RS5000 foam was withdrawn from sale after the Grenfell fire, in which victims suffered cyanide poisoning.
The BBC has now discovered the product is used at 34 homes in Havering, east London, including nine sheltered accommodation units for the elderly.
Havering Council insists the buildings have all passed safety inspections.
The product, which was present in the cladding at Grenfell, has a polyisocyanurate (PIR) core. It emits hydrogen cyanide when burned – a gas once used for executions in the USA.
Leading fire chemistry expert Prof Richard Hull of the University of Central Lancashire said: "When it burns you have this lethal cocktail of gases.
"Hydrogen cyanide increases your breathing rate so you inhale more. You collapse, your breathing rate slows down, but you no longer have the ability to escape."
'Dangerous situation'
He went on: "People can live independently in a two-storey building, but it might take 10 minutes to get downstairs.
"If you have toxic materials that incapacitate them before they escape, that's a very dangerous situation. To me it seems wrong."
Bessie Schofield, an elderly resident of one of the Havering properties, said: "It is frightening. They shouldn't have put it in the building."
Another resident, Maureen Goodey, said: "It concerns me. All we need is it to be safe."
A Havering Council spokesman said: "PIR insulation is widely used within the construction industry and is a component of most insulation materials.
"All these buildings have secondary escape routes as well as hard-wired smoke and heat detection.
"The insulation below the floor is laid under a thick base of concrete, consequently the risk of ignition and spread of flame is mitigated."
The insulation is also present in the roofs, the council said.
Meanwhile, BBC London has established at least five victims were treated for cyanide poisoning after the Grenfell Tower fire in June.
Grenfell Tower resident of 25 years Sener Macik was on the 16th floor when the fire broke out. Following advice from the fire service, he waited in his flat for more than three hours.
"My windows were cracking up and my flat was on fire," he said. "I thought my only chance was to take a chance on the stairs.
"We said our last goodbyes to the relatives, my children."
He and his wife doused themselves in water, held wet towels to their faces and battled their way out.
"When I went to the corridor I saw a lot of black smoke," he said. "It was unbearable, we could not breathe. I thought, 'We're not going to make it'.
"I don't know how long it took us but we came down by ourselves. There was a lot of dead people on the stairs.
"I still don't know how we made it."
Prof Hull said although soft furnishings in flats may also have produced hydrogen cyanide "for most people in Grenfell Tower, the foam would have been the first fire effluent they were exposed to".
He added: "There was enough to produce a lethal cocktail for a whole flat from the small piece outside each window."
The BBC's investigation has also discovered that following a failed fire test in early September Celotex removed a further four insulation products containing PIR from sale.
A spokesman for Celotex said: "Following the tragic Grenfell Tower fire, Celotex stopped the supply of RS5000 pending further clarity.
"Celotex RS5000 is an organic product. During combustion, like all other organic materials, it releases toxic gases.
'No regulation'
"Following the tragic events of 14 June we have offered our full cooperation to the government response to the tragedy and ongoing investigations."
Further research by the BBC has revealed at least one housing association tower block has Celotex RS5000 installed, a 10-storey building in Brent, west London.
It is almost impossible to know how many private buildings have used the product.
Prof Hull urged the government to do more to regulate the toxicity of building materials, which – unlike flammability – are not covered by legislation.
He said: "There's absolutely no regulation over the toxicity of construction products. I can go to the lab and make an insulation material 10 times as toxic as PIR, and there's no restriction on me selling it."
A Department for Communities and Local Government spokesman said: "Current building regulations guidance makes clear that the provision of appropriate measures to limit the rapid spread of smoke and fumes are required.
"Following the Grenfell Tower fire, the government commissioned an independent review of building regulations to ensure that we have a more robust system for the future."
1
London
London News & Search
1 News - 1 eMovies - 1 eMusic - 1 eBooks - 1 Search