1
London
London News & Search
1 News - 1 eMovies - 1 eMusic - 1 eBooks - 1 Search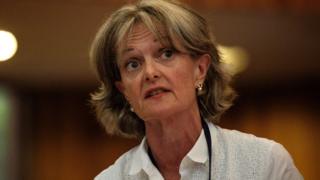 The newly elected leader of Kensington and Chelsea Council has been booed and heckled amid continuing anger over the Grenfell Tower fire.
Protesters shouted "resign" and "shame on you" as Elizabeth Campbell was made council leader at a public meeting.
The councillor said she was "deeply sorry" for the "grief and trauma" caused by the blaze in west London.
About 70 of the 255 people who survived the blaze attended the meeting after condemnation of the council's response.
At least 80 people are dead or missing after the tower block fire on 14 June.
Many people in the public gallery were calling for the Conservative group that runs the council to resign and for new elections to be held.
It was the first cabinet meeting held since the fire, after the council abandoned an earlier meeting – which had been planned as a closed one – when members of the press were allowed in after a High Court judgement.
Addressing survivors in the chamber, Cllr Campbell said: "I am truly sorry that we did not do more to help you when you needed it the most."
Grenfell Tower fire: Who were the victims?
The council leader said 68 new homes for Grenfell Tower survivors would be identified and bought within the next two weeks, and an additional 31 homes would be acquired in the next few weeks.
Ms Campbell also promised that 400 new social houses would be built over the next five years.
The councillor took over as de facto leader after Nicholas Paget-Brown resigned on 30 June.
The new leader later admitted on the Today programme that she had never been in a tower block, but added that she had visited many council houses.
A group of demonstrators stood outside Kensington Town Hall, where the meeting was taking place on Wednesday evening, holding Justice for Grenfell placards.
At least 150 community members and volunteers were at the meeting.
1
London
London News & Search
1 News - 1 eMovies - 1 eMusic - 1 eBooks - 1 Search