1
London
London News & Search
1 News - 1 eMovies - 1 eMusic - 1 eBooks - 1 Search
Grime MC Jammer has issued a new warning over "street skunk" in UK cities.
The music producer, who's part of Boy Better Know, was speaking during a live debate on Radio 1.
Guests argued for and against legalising the drug, or forms of it, in the programme on Tuesday night.
It's after Newsbeat looked at cannabis laws around the world in Cannabis: Time for a Change?
Jammer said that people are "getting psychosis" because they are smoking unregulated, high-strength types of cannabis, often called skunk.
He added that cannabis education is "still minimal" with very little information available to young users.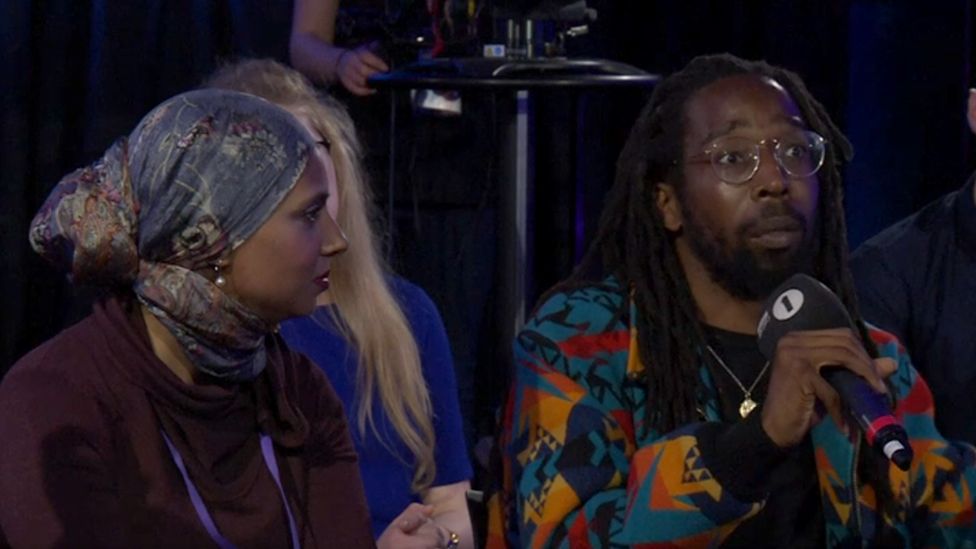 Image caption Dr Ayesha Sharieff, a GP in London, and Jammer from BBK in the Radio 1 Live Lounge
Dr Ayesha Sharieff, a GP in south London, says she has seen "absolute devastation in vulnerable families" caused by cannabis use.
She explained that psychosis is "an acute mental health disorder where you lose connection with reality".
Cannabis in the UK
Cannabis is a Class B drug – it's illegal to possess, give away or sell
Possession is illegal whatever you're using it for, including pain relief
The penalty for possession is up to five years in prison
Supplying can get you up to 14 years and an unlimited fine
Giving it to friends, even if they don't pay, is considered as supplying
"It's a very scary situation where the patient doesn't realise they're unwell.
"It has huge ramifications for your future as well."
On the possible medical benefits of cannabis, she added: "We need more high quality research in this area to really make a good decision for everyone."
https://twitter.com/BBCNewsbeat/status/900126694987706368
The science of 'skunk'
"If you look at the cannabis problem now, you will see a lot of the psychosis is coming from high levels of THC and no CBD," Jammer explained.
"This is happening because the weed or skunk or cannabis, whatever you want to call it, is not regulated.
"There's an underworld that grows things that haven't been tested properly.
"You wouldn't go into a shop and just pick up a can of red liquid and drink it if you didn't know what was in it. That's where we're at with cannabis now. We don't have any control.
He added that in the past people would smoke "natural hash".
"I've seen it first hand, from many different ages, kids now are getting their hands on street skunk. They're smoking high levels of THC."
The 'creative' drug?
"Twenty years ago, when people were smoking hashish, grown in natural light, we did not have this issue. It didn't exist," Jammer added.
"You can clearly see the change in skunk that's sold on the street, in the youth, in terms of how much psychosis we have today."
"There's a long history of creating with cannabis. There's a lot of great artists and musicians that have used cannabis and created.
"But that is not the issue here. People are getting into trouble with street skunk and non-regulated skunk."
https://twitter.com/BBCNewsbeat/status/900116330510241792
What you said
You sent hundreds of text messages arguing for and against legalising cannabis during the hour-long debate.
One woman, who wanted to be anonymous, said: "My boyfriend started smoking cannabis a few months ago and has suffered severe mental health problems, nearly bankrupted us, lost his job and ended our relationship."
https://twitter.com/DRBristol71/status/900089605915070467
Paul texted to say his son and nephew "both can't work or function because of smoking cannabis. They are angry, delusional and their lives have been ruined".
But Callie told us his son was "saved by cannabis".
"It actually took him off many much harder drugs. Education is key and prohibition prevents that."
https://twitter.com/tulula_may/status/900057998227374084
Shahin said "legalising cannabis would allow people to buy clean weed" and "would reduce gang-related violence".
You can find help and information about cannabis on these BBC Advice pages.
Find us on Instagram at BBCNewsbeat and follow us on Snapchat, search for bbc_newsbeat
1
London
London News & Search
1 News - 1 eMovies - 1 eMusic - 1 eBooks - 1 Search