1
London
London News & Search
1 News - 1 eMovies - 1 eMusic - 1 eBooks - 1 Search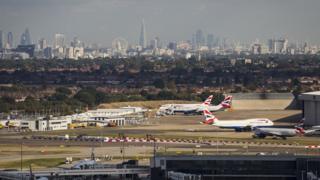 The former boss of British Airways, Sir Rod Eddington, says Heathrow's claims it will not raise landing charges to pay for a new runway are not credible.
Sir Rod told the BBC it was "very difficult to see how that is possible".
"More importantly, the airlines themselves do not believe that it is," the Australian businessman added.
He is leading a consortium advising Surinder Arora, the hotel magnate who claims to have come up with a cheaper plan for Heathrow's third runway.
Mr Arora claims his scheme will cost up to £7bn less than Heathrow's, which is costed at £17.5bn.
Heathrow has dismissed the Arora scheme, saying its ideas had already been ruled out by the Airports Commission, the government body that studied potential sites for a new runway in the south east of England.
Sir Rod, who drew up an influential report on Britain's transport infrastructure for the then chancellor Gordon Brown a decade ago, said the Arora plan had sprung out of concerns that airlines and other businesses at Heathrow had with the airport's own scheme.
"They are concerned about the costs," said Sir Rod, one of the world's most experienced airline bosses having run Australian airline group Ansett, Cathay Pacific and British Airways.
The full savings that could be achieved would depend on final decisions on the orientation and length of the new runway, but significant costs could be taken out in the construction of a new terminal and how the existing terminals were adapted, he said.
"We can't gild the lily – we need a new runway, but if it's not affordable, it runs the risk of driving business away from Heathrow, not attracting it."
Heathrow said it had shared its plans with airlines "at every step".
"While the Arora plan may appear to reduce financial costs, it was in essence, rejected by the Airports Commission because of the significant environmental burdens it would impose on many," the airport operator said.
"We remain 100% committed to delivering expansion affordably – but we will not compromise on commitments made to local communities."
1
London
London News & Search
1 News - 1 eMovies - 1 eMusic - 1 eBooks - 1 Search