1
London
London News & Search
1 News - 1 eMovies - 1 eMusic - 1 eBooks - 1 Search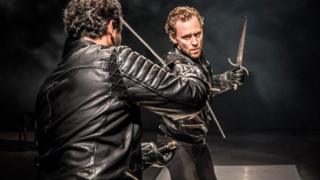 Tom Hiddleston's performance as Hamlet has been praised by theatregoers after the Shakespearian tragedy opened to a select audience in London.
The Thor and Night Manager star delivered a performance full of "grief and rage", according to ticketholders.
The play began its three-week run at the Royal Academy of Dramatic Art's 160-seat theatre on Friday night.
But few will be lucky enough to see it, with all tickets sold through an online ballot and no recording planned.
The performance is directed by Rada president Sir Kenneth Branagh, who directed Hiddleston in the role of Loki in his breakthrough movie, Thor.
As pictures of Branagh's leather-clad Hamlet made front pages of Saturday's newspapers, some audience members took to social media to deliver their reviews, with #Hamlet trending on Twitter in the UK by Friday night.
Many commented on the unique intimacy of the theatre, which means the audience are never more than a few metres from the cast.
The production at London's Jerwood Vanbrugh is a fundraiser, with all proceeds going towards Rada's Attenborough campaign, which aims to upgrade one of its main London sites and to provide on-site student accommodation.
Speaking ahead of the production, Hiddleston said: "The performing arts exist to bring people together, not to break or keep them apart. We need to keep the doors open for everyone."
He added: "Kenneth Branagh and I have long talked about working on the play together, and now felt like the right time, at the right place."
There were some surprises from the actor, including singing, piano playing and a reading of Matt Haig's 'Reasons to stay alive' – a memoir about depression.
Hiddleston had plenty of funny moments too, theatre goer Emma Billman said, adding "that man is hilarious when he wants to be".
For Mary Kinberry however, Hiddleston's "clear, solid" Hamlet lacked the "soulful openess" of Andrew Scott's, who is playing the part in the West End's Harold Pinter theatre for the last time on Saturday night.
The professional critics were also impressed – although they reportedly had to win tickets through the ballot like everyone else.
It was four stars from the Telegraph, which said Hiddleston's anger was "undercut by a tenderness that is heartbreaking".
Meanwhile, the Guardian's theatre critic, Michael Billington, praised the star's "ability to combine a sweet sadness with an incandescent fury".
For Hiddleston fans, reviews were scant comfort for not being able to see the man himself.
For them, posts like those from audience member Matthew Lumby, may be the closest they will get.
In a thread of tweets, Mr Lumby gave his verdict on the "well-paced" three hours of Hiddleston's "strong, classical" Hamlet.
He credited the supporting cast, staging and lighting and said by the end, most of the audience were on their feet.
"Overall a strong production by Branagh and Hiddleston for a good cause. Sad that so few people will be lucky enough to see it," he concluded.
1
London
London News & Search
1 News - 1 eMovies - 1 eMusic - 1 eBooks - 1 Search