1
London
London News & Search
1 News - 1 eMovies - 1 eMusic - 1 eBooks - 1 Search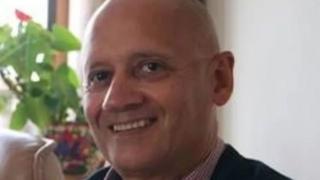 An illegal immigrant, who was picked up by the authorities six times, has been jailed for murdering a 62-year-old carer in London's Hyde Park.
Hani Khalaf kicked, punched and stamped Jairo Medina to death near Speakers' Corner on 11 August 2016 and robbed him of cash and a mobile phone.
At the time, Khalaf, 22, was homeless, had no legal way of supporting himself and was on bail for shoplifting.
The Egyptian national has been ordered to serve at least 26 years in prison.
False identity
He is likely to be deported to serve his sentence in Egypt once he is no longer a category A prisoner, the Old Bailey was told.
Khalaf arrived in Kent in the back of a lorry in August 2014 and was liable for deportation, the court heard during his trial.
The day before he met Mr Medina, Khalaf was arrested and bailed for shoplifting at a Superdry clothes shop in Regent Street.
On that occasion he gave police a false name that he had previously given to immigration officers.
Jurors heard Khalaf met Mr Medina from Chelsea, in the park, where the single man had gone hoping to have sex with a younger man.
Mr Medina's bruised and broken body was discovered early on 12 August by a groundsman in Hyde Park on his way to work.
'No respect'
Judge Wendy Joseph QC said Khalaf was sent back into the community time and again because of a failure to deport him and Mr Medina paid for it "with his life".
She said: "It is clear that Hani Khalaf, having absconded, came to the attention of authorities on at least six occasions.
"On each, he was re-bailed because they could not make arrangements for securing his deportation in a reasonable amount of time."
The result was that Khalaf, with no way of "lawfully maintaining himself", was sent out in the community again and again and told to report to authorities, which he never did.
Judge Joseph said he showed "no respect for the law" and became a danger to himself and others, adding: "The extent of that danger is one Mr Medina paid for with his life."
In victim impact statements read out to the court, Mr Medina's friends and family spoke of a kind and peaceful man.
His brother, German Cardona, said he was given an award in 2015 for his "service to care in London" and had devoted his life to support his family at home, including his 86-year-old father who died within months of the murder.
Close friend Mahmood Khan described him as "generous and loving" and said: "If Mr Medina was alive he would probably forgive the person who had committed this crime."
1
London
London News & Search
1 News - 1 eMovies - 1 eMusic - 1 eBooks - 1 Search