1
London
London News & Search
1 News - 1 eMovies - 1 eMusic - 1 eBooks - 1 Search
Every day some 55 million people go about their lives across England. This is a snapshot of a nation across 24 hours.
Photographs will be added through the day, telling the everyday stories of the people who make up the nation.

'Things people don't normally see'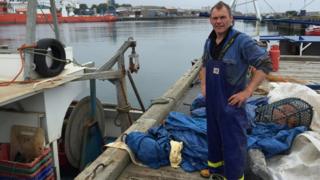 11:14
Paul Dent is a fisherman working out of Blyth Harbour in Northumberland, whose family has been in the business for generations.
His catch depends on the season; prawns in winter and salmon during summer months. But today he's not at sea because of weather and tidal conditions so he's concentrating on maintenance on one of his boats.
The 47-year-old says being a fisherman is "the best job in the world".
"It can be feast or famine when it comes to pay, but I love it. You see sunrises, wonderful cloud formations, dolphins, there's just been some minke whales. Things people don't normally see. I love getting out of bed every morning."

'Reduced impact living'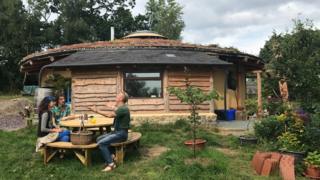 09:54
The Wheelhouse family live in their self-built straw bale roundhouse at their Karuna Insight Design project. It is in an 18 acre forest healing farm site in Picklescott, within the Shropshire Hills Area of Natural Beauty.
Janta Wheelhouse says: "We are running a forest garden demonstration site inspired by local pioneer Robert Hart.
"Our deepest concerns are to support develop and raise awareness of reduced impact living, true sustainability, community, natural building, organic food growing, wildlife conservation, healing and art."
The family opens their home to the public through organized groups and tours, workshops and volunteer projects.

Turning around a 'floating city'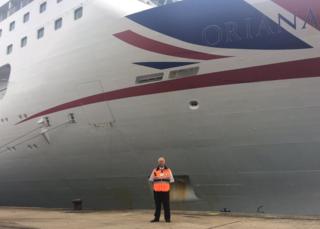 09:12
At the Mayflower Cruise Terminal in Southampton port, P&O cruise ship Oriana has berthed. That's when the clock starts ticking for terminal manager, John Garner, 69, and his team.
They have 10 hours to unload and restock the 1,880 passenger ship again for the next cruise.
"It's all on a time factor," he says. "It's got to fall in line for the ship to go out again at the right time – it's very challenging but it's a pleasure to work here."
Despite organising the smooth sailing of a countless number of the ships in his 49-year career, Mr Garner has an admission.
He's only actually been on one cruise.

'We're like a family'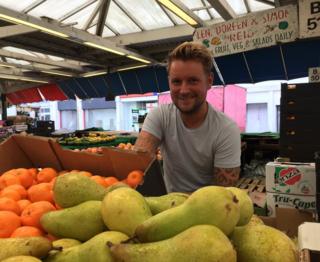 07:52
Liam Reid's family has been selling fruit and vegetables on Leicester Market since World War One. The 32-year-old gets up every morning at 5am and works six days a week.
"There is a buzz [around the market]," he says. "Everyone is always having fun, there's always loads of banter. We're like a bit of a family down here."
Mr Reid says the weather does make a difference though. "The winters are minging," he adds. "They're freezing and it's not as busy – it's hard work. But in the summer you can have your shorts on, the sun's out and there's soft fruit."

The dawn patrol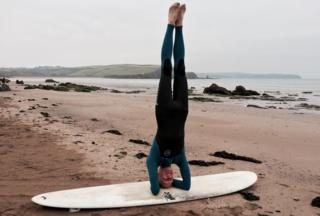 06:38
As many people across the nation rise from their beds and perhaps perform a morning stretch, yoga teacher Stephen Harding, 58, is on dawn patrol for waves at Bigbury in Devon.
He's also a co-founder of the Surf Hams Film Collective – a group of artists who ride waves and make films.
"There's a synergy to surfing and yoga," he says. "Yoga's a great warm up and conditioner for the sport."

'We have more of a connection with the cows than people'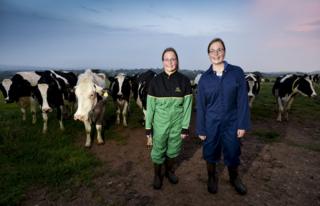 05:35
While most teenagers are asleep at 5am, 18-year-old twins Laura and Anna Callwood are milking cows near their home in Cleobury Mortimer, Shropshire. The fifth generation farmers have overcome challenges to pursue their dream, as both are on the autistic spectrum.
"One teacher told us 'there's more to life than farming'," said Anna, but the comment made the Worcestershire Young Farmers Club members more determined. Despite concerns they could struggle with its demands, both are studying for an agriculture diploma. "We have more of a connection with the cows than people," said Laura. "They are used to us, they know us, and they love us."

'I see the sun rise every day'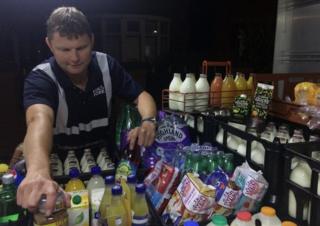 04:17
Richard Parker is a third-generation milkman from Long Eaton in Derbyshire. Despite having to leave home at either 23:40 or 01:00, the 42-year-old loves his job and said it's "fantastic to see the sun rise every day".
He's often called upon to help elderly customers help carry things, change light bulbs, and even set up Skype calls. "I really do like that side of the job," he said. "You get that sense of being part of the community." He said he has two sleeps – a few hours at about 09:00 and then a couple more before he starts work.

'Every day is different'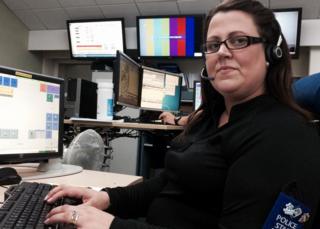 03:34
Sarah Herbert, 38, has been a resource deployment officer at Devon and Cornwall Police's control room for 17 years.
"Every day is different, you never know what's going to come in and you leave with the feeling that you've helped someone positively."
She is also trained to speak to suicidal people.
"We've had a lot of trees down tonight, we've had a couple of people in mental health crises, and a break-in – it's been a steady night so far."

'I get paid to go out'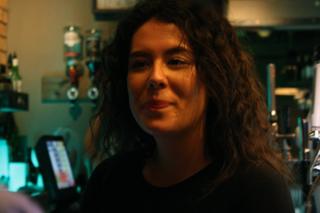 02:00
Teenager Lauren Sullivan started working in a bar as a Saturday job but enjoyed it so much she decided to take it up full time. "You get paid to go out," she said. "It's just like having your own family at work."
The 19-year-old works late shifts at the Actress and Bishop bar in Birmingham, which is open until the early hours. At weekends she works till 05:30 and then works out. "I go to the gym because it helps me get to sleep. Everyone thinks I'm a bit insane."

'I try to avoid the drunks'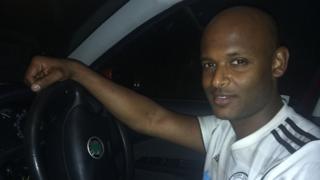 01:14
Taxi driver and part-time actor Shameer Madarbakus from Alvaston works for Derby firm Albatross Cars. The 39-year-old prefers working during the day because night shifts can mean dealing with drunken customers. "You have to do your best in difficult situations," he said.
However, he loves chatting with friendly passengers: "You meet people from all walks of life. You experience all sorts of situations, some good some bad."
Shameer has appeared in Casualty and Eastenders and likes the flexibility of the job as it helps with his acting work and means he's able to spend time with his 17-month-old son.

Use #24HoursInEngland on social media to share your stories.
1
London
London News & Search
1 News - 1 eMovies - 1 eMusic - 1 eBooks - 1 Search