1
London
London News & Search
1 News - 1 eMovies - 1 eMusic - 1 eBooks - 1 Search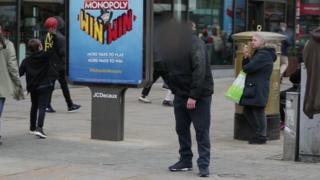 Twenty-six people were convicted under "psychoactive substances" laws in the first six months since they were introduced.
It followed almost 500 arrests over the same period following a ban on new drugs like Spice.
An addiction charity says laws alone will not tackle the problems of people in "zombie-like" states.
The Home Office said over 300 retailers across the UK had closed or stopped selling psychoactive substances.
The first contested cases under the new laws involving "laughing gas" have also collapsed.
The Psychoactive Substances Act 2016 banned what used to be called "legal highs", including synthetic drugs that produce similar effects to cannabis.
Some of those, such as Spice and Black Mamba, have since been re-classified as Class B controlled drugs, which has made possession illegal even without intent to supply.
Use of Spice, a "new psychoactive substance" (NPS), prompted a surge in calls to ambulance services and made homeless users in Manchester "like zombies", according to charity workers.
Greater Manchester Police reported having to attend 58 incidents in the city centre in one weekend.
Figures published by the Ministry of Justice showed there were 26 convictions under the Psychoactive Substances Act in England between the end of May 2016, when the ban came into force, and December.
It would not disclose figures for 2017 as they are due to be published next year.
The Home Office said in December police had made nearly 500 arrests in the same period.
The figures do not break down how many people were still going through the courts at the beginning of 2017.
In addition, the convictions only include those where the psychoactive substance was the person's main offence. They do not include those who were convicted of a more serious crime as well.
They also do not detail how many were cautioned or dealt with out of court.
Legal high 'made me punch my own face'
---
What is the law on "legal highs"?
Drugs that used to be known as "legal highs" were banned on 26 May 2016 under the Psychoactive Substances Act.
Criminal offences included:
Producing a psychoactive substance
Supplying, or offering to supply, a psychoactive substance
Possession of a psychoactive substance with intent to supply it
Importing or exporting a psychoactive substance
Possessing a psychoactive substance in a custodial institution (such as a prison or young offenders' institution)
Penalties include up to seven years in prison for the supply, production, possession with intent to, import or export of a psychoactive substance or up to two years for possessing a substance in a custodial institution. Police have the power to shut down shops or online dealers and anyone who fails to comply also faces up to two years in prison.
Synthetic cannabinoids, such as those found in Spice, were re-classified as class B drugs in December 2016. This has made them subject to further controls including making possession illegal, punishable by a maximum five year sentence.
Source: Home Office
---
Conviction rates for drugs as a whole are higher than those recorded in the first six months of the Psychoactive Substances Act.
According to official statistics from the Home Office and Ministry of Justice, 78,000 arrests were made during 2015-16 for drug offences in England and Wales.
Over the same period, there were 45,714 convictions in the courts, equivalent to about 59% of the number of people arrested.
Significant decrease
Drug treatment charity Addaction said users of users of psychoactive substances needed appropriate treatment.
Its public policy officer Steve Moffatt said: "There has to be a health-based approach. Treatment has to be there and NPS won't be combated just by law enforcement."
A Home Office spokesman said in introduced the Act to restrict the supply of legal highs.
"The use of NPS among 16 to 59 year olds in the last year has fallen from 0.7% in 2015-16 to 0.4% in 2016-17. This was driven by a significant decrease in use among young men."
1
London
London News & Search
1 News - 1 eMovies - 1 eMusic - 1 eBooks - 1 Search