1
London
London News & Search
1 News - 1 eMovies - 1 eMusic - 1 eBooks - 1 Search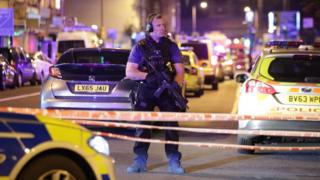 Maximum prison sentences for some terror offences may be too low, the independent reviewer of terrorism legislation has said.
In an interview with the Press Association, Max Hill QC gave the example of someone who failed to alert the authorities to possible attacks.
It is an offence that is punishable by a sentence of no more than five years.
But he said he saw no need for fresh legislation in the wake of the terror attacks in Manchester and London.
'Terrorist mindset'
Mr Hill said: "With the benefit of experience and hindsight it may be the case that some offences have insufficient discretionary maximum sentences, which should be reviewed."
He cited Section 38B of the Terrorism Act 2000, under which an individual commits an offence if they do not inform police when they believe someone is preparing acts of terrorism.
"It seems to me that that should be reviewed for a decision on whether that is actually sufficient," he said.
---
UK terror attacks
---
Mr Hill also suggested there may be a need to look again at wider criminal offences that are "perfectly appropriate" for use in terrorism cases.
He said: "We have robust and appropriate laws dealing with firearms, knives, assaults and violence against the person.
"There is already a mechanism for judges to regard a terrorist mindset as an aggravating factor in non-terrorist offences, but that is something that needs to be provided by way of a list or a schedule to indicate to judges which offences may be aggravated by a terrorist mindset."
Mr Hill also said a UK citizen who returned from Syria after committing criminal acts should face prosecution.
But he added: "In cases which may come to light of individuals who travel to Syria out of naivety or brainwashing and are desperate to return to their friends and families in this country in a state of great disillusionment after their time in Syria, it doesn't follow that in every case those individuals must be prosecuted or that there must be any mandatory process against them."
Summing up the current situation, he said: "We are seeing attacks planned or perpetrated by the use of a vehicle and a knife, as opposed to more 'sophisticated' attacks.
"And we are seeing attacks that are inspired and put together in a comparatively short period of time, perhaps less evidence of long-term radicalisation, more evidence of individuals with the mindset to turn their mind to terrorism, inspired by online propaganda and little else."
People in England and Wales can challenge punishments given for the most serious terror offences under the Unduly Lenient Sentence scheme.
This allows anyone to appeal against Crown Court sentences if they think are too light.
And changes to that legislation, introduced in August, now allows the public to challenge a wider range of sentences given for terror offences.
1
London
London News & Search
1 News - 1 eMovies - 1 eMusic - 1 eBooks - 1 Search