1
London
London News & Search
1 News - 1 eMovies - 1 eMusic - 1 eBooks - 1 Search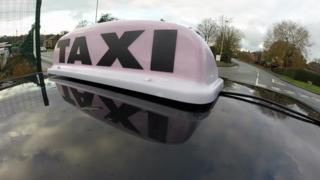 The mayor of London should be allowed to cap the number of minicabs in the capital, MPs will tell the government.
The all-party parliamentary group (APPG) on taxis will call for powers to be granted to City Hall, in a report to be published on Wednesday.
Chairman Wes Streeting said London's streets were being "clogged up with empty minicabs" which were adding to "toxic air pollution".
Sadiq Khan said being able to cap numbers would "make a real difference".
"The number of private hire drivers has doubled to nearly 120,000 since 2010, causing significant congestion and air quality problems for London," he said.
However, Uber has disputed the figures saying there are currently about 87,000 private hire vehicles licensed in London.
The MPs report also calls for the closing of a loophole that it says allows minicab drivers to acquire licences in areas with less stringent conditions.
"Londoners should be able take a taxi or a minicab with the confidence that their driver has a licence issued in London in line with our tough safety standards", Mr Streeting said.
A spokesperson for Uber said "capping consumer choice is not the way to tackle congestion and air pollution".
The spokesperson said a recent report by traffic expert Inrix showed congestion was worsening in the capital "because of a huge increase in roadworks like the new cycle lanes and a large rise in delivery vehicles" and not as a result of minicabs.
Minicab driver Ash Raoh told the BBC a cap might force him "out of a job".
He said it would be "very unfair".
"I work hard, 12-14 hours every day, to earn a fair living rather than signing on to the dole," he said.
1
London
London News & Search
1 News - 1 eMovies - 1 eMusic - 1 eBooks - 1 Search