1
London
London News & Search
1 News - 1 eMovies - 1 eMusic - 1 eBooks - 1 Search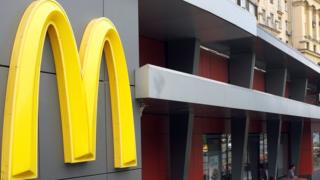 Fast food chain McDonald's is facing its first strike in the UK as workers at two sites walk out in a dispute over zero-hours contracts and conditions.
Workers at Cambridge and Crayford, south-east London, began the 24-hour action at midnight. A union called it a "brave" move by low-paid staff.
The Bakers, Food and Allied Workers Union said staff want a wage of at least £10 an hour and more secure jobs.
McDonald's said the action related to internal grievance procedures, not pay.
Ian Hodson, national president of the Bakers, Food and Allied Workers Union (BFAWU), said: "We fully support the historic decision by these brave workers to stand up and fight back against McDonald's – a company that has let them down one too many times.
"For far too long, workers in fast food restaurants such as McDonald's have had to deal with poor working conditions, drastic cuts to employee hours, and even bullying in the workplace – viewed by many as a punishment for joining a union."
The 40 or so McDonald's staff are not unionised, but the BFAWU agreed to take up their case after being contacted.
The union has taken advice from protesters in the US and New Zealand who have campaigned for better conditions at McDonald's, Mr Hodson said.
The staff have also won backing from Labour leader Jeremy Corbyn.
"Our party offers support and solidarity to the brave McDonald's workers, who are making history today," he said.
"Their demands – an end to zero hours contracts by the end of the year, union recognition and a £10 per hour minimum wage – are just and should be met."
Three pay rises
McDonald's, which employs around 85,000 staff in the UK, announced in April that workers would be offered a choice of flexible or fixed contracts with minimum guaranteed hours, saying that 86% have chosen to stay on flexible contracts.
A company spokesman said: "We can confirm that, following a ballot process, the BFAWU has indicated that a small number of our people representing less than 0.01% of our workforce are intending to strike in two of our 1,270 UK restaurants.
"As per the terms of the ballot, the dispute is solely related to our internal grievance procedures and not concerning pay or contracts.
"McDonald's UK and its franchisees have delivered three pay rises since April 2016, this has increased the average hourly pay rate by 15%."
Mr Hodson said there would be pickets outside the two McDonald's restaurants, but could not stop the company arranging alternative staff to run the outlets.
1
London
London News & Search
1 News - 1 eMovies - 1 eMusic - 1 eBooks - 1 Search