1
London
London News & Search
1 News - 1 eMovies - 1 eMusic - 1 eBooks - 1 Search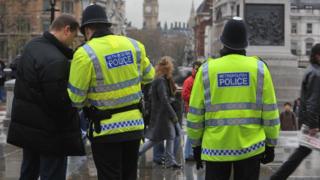 Vulnerable people could be prioritised over other victims of crime in London, the deputy commissioner of the UK's biggest police force has said.
Those with learning difficulties, the elderly, and people with English as a second language could be seen first, the Met Police's Craig Mackey said.
It was "absolutely feasible" that such victims of crime could be visited by police while others would not, he said.
Police cuts could leave the Met looking at "difficult" policy areas, he added.
Speaking to London's Evening Standard, Mr Mackey – the Met's second most senior officer – suggested the force could assess its response to crimes based on the victim's vulnerability.
He said the force may seek to "triage" crimes (deciding the order of treatment based on urgency).
What has happened to police numbers?
"Increasingly, as we go forward we will look at things like trying to assess people and crime on the sort of the threat, the harm, the risk, and people's vulnerability.
"It's absolutely feasible as we go forward that if my neighbour is a vulnerable elderly person who has experienced a particular type of crime, that she gets a face-to-face service that I don't get," he added.
"Vulnerability can manifest itself in a number of ways: people with learning difficulties, a whole range of things, some people for whom English isn't a first language.
"That's about how we get those resources focused on the things you can make a difference with. But also as we go forward, as demand grows, you have to have a way of controlling and triaging."
Mr Mackey said burglary victims would "probably always get a service".
However, he suggest victims of "vehicle crime" and "those sorts of things" might not get a face-to-face visit by a police officer.
According to the Home Office figures, the number of Met Police officers fell by 401 between September 2015 and September 2016 – falling from 32,183 to 31,782.
In March this year, the Home Office said that figure had fallen further, to 31,517
In June, Mayor of London Sadiq Khan called on the government to make more resources available to the force, in the wake of recent terror attacks.
Mr Khan said there were plans to cut a further £400m from the force's policing budget over the next four years.
Speaking at the time, Met Commissioner Cressida Dick said forces would have to continue to become "more efficient" in the future.
She said she would "absolutely" be seeking more resources for the Met.
Responding to the calls, a Home Office spokesman said: "Police funding has been protected since the spending review in 2015.
"The Metropolitan Police, like all forces, continue to have the resources they need to keep us safe and secure".
1
London
London News & Search
1 News - 1 eMovies - 1 eMusic - 1 eBooks - 1 Search