1
London
London News & Search
1 News - 1 eMovies - 1 eMusic - 1 eBooks - 1 Search
The case of a five-year-old Christian girl left distressed after being placed with Muslim foster carers has caused controversy.
The Times reported that the family could not speak English – a claim later denied by Tower Hamlets Council – and that she was forced to remove a crucifix necklace and wasn't allowed to eat bacon.
Here, we speak to a Muslim woman whose family has been fostering children from all religions for 25 years.
For as long as she can remember, Esmat Jeraj's family has taken in foster children.
Their London home, where she lives with her mum, dad, brother and sister, has provided care and affection to around 60 children over a quarter of a decade.
Some, like Esmat, have been Muslim, but there has been a mix of Christians, Hindus and Sikhs too.
"I have never found ethnicity, race or religion has been an issue," says the 28-year-old community organiser.
"If a child wants a bacon sandwich, we would say you can't have that in this house but we can take you to a restaurant where you can have one.
"We made space for a Hindu child to keep their idols or goddess in their bedroom, and with Christian children, we always celebrate Christmas and Easter," she explains.
Her parents might even ask the foster child's family for a recipe for an ethnic dish to make them feel more at home.
Foster carers are required to facilitate the practise of faith so we would give children access to churches or temples, she says.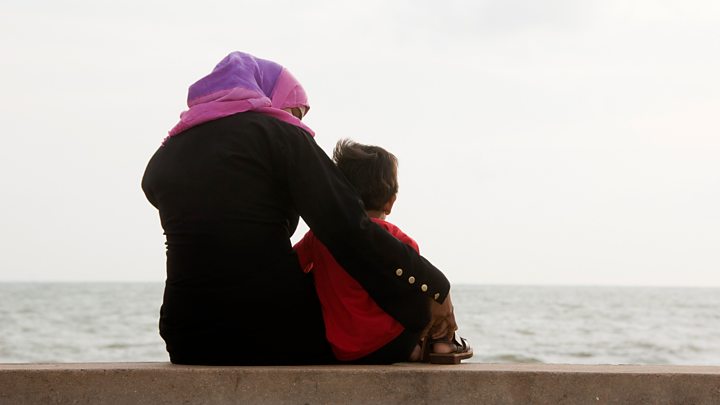 Being exposed to different people only enriches life, she says, as she recounts a story from around the time of the 2001 terror attacks on the US.
A boy of about nine or 10 had been "quite racist" when he had first been placed with them, she says.
"He told us brown people should not speak English.
"Ten months or so later, he was the one standing up for my mum when she was facing racial abuse after 9/11."
Esmat's family speak a mix of English and Gujarati, but when foster children are with them, they stick to English.
When her grandparents are there or at a family occasion with elder relatives, Esmat would speak Gujarati but would always translate the conversation so the child can understand.
"I see the child as a member of our family," she says.
"They will attend family functions, we will celebrate their birthday, we will be a unit.
'Space to flourish'
"When a child first arrives, there is nervousness, hesitation. We try to make them feel welcome and comfortable, and if they want to be alone, we give them space.
"Their well-being is utmost – it's not just about protecting them from physical harm but giving them space to flourish."
"I'm not going to lie – it can be incredibly challenging and stressful," she says, recalling one child who had to be taken to A&E nearly every day for one thing or another.
"It's important to remember they are a product of their experiences."
Local authorities do try to make a concerted effort to put children in a home that reflects their cultural and religious heritage, she says.
But more often, they are striving to place a child in the local area in an environment they are familiar with, as school is sometimes their one constant.
1
London
London News & Search
1 News - 1 eMovies - 1 eMusic - 1 eBooks - 1 Search