1
London
London News & Search
1 News - 1 eMovies - 1 eMusic - 1 eBooks - 1 Search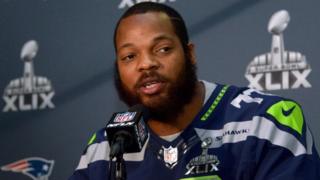 A high-profile NFL star has accused Las Vegas police of excessive force during an incident after a major boxing event.
Michael Bennett, who plays in defence for the Seattle Seahawks, said he ran away from "what sounded like gun shots" after the Mayweather v McGregor fight in Las Vegas on 26 August.
In a statement he alleged he was forced to the ground at gunpoint by police and suggested he was singled out by race.
Bennett has previously publicly protested against racial injustice.
Warning: explicit language
A video of the alleged incident was released by TMZ – a US-based celebrity news website.
The BBC has contacted the Las Vegas Police Department for comment, but has not yet had a response. In a tweet, the police force said the case was under investigation, and that a statement would be made later on Wednesday.
In a statement posted on Twitter, Bennet said: "Las Vegas police officers singled me out and pointed their guns at me for doing nothing more than simply being a black man in the wrong place at the wrong time.
"A police officer ordered me to get on the ground. As I laid on the ground, complying with his commands to not move, he placed his gun near my head and warned me that if I moved he would "blow my fucking head off".
"Terrified and confused by what was taking place, a second Officer came over and forcefully jammed his knee into my back making it difficult for me to breathe. They then cinched the handcuffs on my wrists so tight that my fingers went numb.
"The Officers' excessive use of force was unbearable. I felt helpless as I lay there on the ground handcuffed facing the real-life threat of being killed. All I could think of was 'I'm going to die for no other reason than I am black and my skin color is somehow a threat'."
Bennett said he was eventually released "without any legitimate justification" after police "realised I was not a thug, common criminal or ordinary black man but Michael Bennett, a famous professional football player."
He said the police had engaged in "abusive conduct".
Bennett, 31, is one of the league's best-known players, and won the Super Bowl with the Seattle Seahawks in 2014.
In the statement, he also referenced a string of high-profile cases involving African-Americans who had been killed by US police.
He also said he was exploring "all my legal options including filing a civil rights lawsuit for the violation of my constitutional rights".
Last month, Bennett joined a number of black US football players by sitting during the US national anthem at a pre-season game to protest against racial discrimination.
"I just want to see people have the equality that they deserve. And I want to be able to use this platform to continuously push the message of that," he said last month.
"I'm being vulnerable to show every person that no matter [what] you believe in, keep fighting for it. Keep fighting for equality. Keep fighting for oppressed people. And keep trying to change society."
He was following the lead of former San Francisco 49ers quarterback Colin Kaepernick, who divided US public opinion by staging protests during the US national anthem throughout the 2016 season.
"I am not going to stand up to show pride in a flag for a country that oppresses black people and people of colour," Kaepernick explained in a 2016 interview.
Bennett said "most people know why" Colin Kaepernick had been sidelined from the NFL.
Kaepernick labelled Bennett's treatment as "disgusting and unjust" in a tweet on Thursday.
Both of the player's tweets have been shared tens of thousands of times.
1
London
London News & Search
1 News - 1 eMovies - 1 eMusic - 1 eBooks - 1 Search