1
London
London News & Search
1 News - 1 eMovies - 1 eMusic - 1 eBooks - 1 Search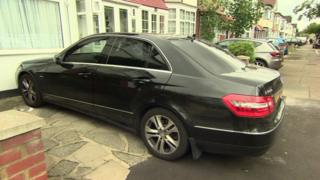 Residents in a London street have criticised the council for issuing their cars with "crazy fines" when they are parked on private drives.
Vehicles parked on drives in Roll Gardens, Gants Hill, have been ticketed as they "slightly obstruct the road's pavement".
The short drives, built in the 1940s, mean most modern cars overhang the pavement.
Redbridge Council said some residents are "clearly obstructing the pavement".
Catherine Meletiou, a resident on the street, said the fines were "crazy".
She added: "It's absolute madness. If the car is not small it's going to come over the driveway and onto the footpath, there's no allowances for that."
Irshad Nabee, Roll Gardens Neighbourhood Association chairman, said: "For the greater part of 40 years, this has not been a problem.
"But since July, we have seen a spate of parking fines. I don't know where the council expect us to park."
Local councillor Karen Packer said the residents had no warning or consultation about the issue.
'Totally unfair'
She suggested a potential solution was to introduce a residents only permit scheme or a temporary suspension of all ticketing in the area.
"These are hard working people and one ticket is hard for some to fit in their weekly financial budget, let alone two, three or even four in some cases."
Linda Horwood, who has lived on the street for 45 years, said she received a fine of £110 for the first time since moving to the area.
"It's totally unfair, and to make sure I'm not overhanging too much I'm parking my car so close to my house that I'm bashing it every time I park."
Redbridge Council said tickets could be issued for parking "more than 50cm from the edge of the carriageway and not within a designated parking space".
A spokesman said the majority of residents in Gants Hill were "making every effort to use the driveway space available to them and parking without causing an issue".
"Residents have told us they are confused about the parking guidelines and we will be working with them to offer advice to avoid them receiving future fines."
1
London
London News & Search
1 News - 1 eMovies - 1 eMusic - 1 eBooks - 1 Search