1
London
London News & Search
1 News - 1 eMovies - 1 eMusic - 1 eBooks - 1 Search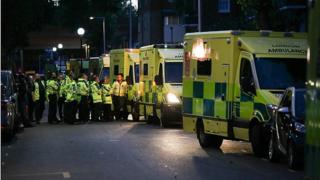 "Serious incidents" involving ambulances – including an alleged rape and a patient dying after vehicle keys were "lost" – have risen by 10% in five years.
The number of such events rose in seven of England's 10 ambulance areas.
Unison said the rise reflected "intolerable pressures" facing ambulance workers.
The Association of Ambulance Chief Executives said the incidents amounted to a "tiny" number of patient journeys.
"Serious incidents" (SIs) are defined by the NHS as "adverse events" needing a "heightened level of response".
Serious Incidents
Reported cases include:
In 2013, a heart patient in the East Midlands area died due to delays because of "lost ambulance keys"
A patient conveyed by the West Midlands Ambulance Service ended up needing a leg amputation in 2014 after falling in an ambulance
In 2015, the East Midlands Ambulance Service received an allegation of sexual assault by a staff member against an elderly woman
A North West Ambulance patient died in 2015-16 after vital medical equipment was found to be "missing from the ambulance"
South Western Ambulance Service declared "prolonged media coverage" as a serious incident in 2015-16.
In 2016, a 49-year-old man died after the defibrillator brought in by East of England Ambulance Service paramedics failed to work
In 2014/2015 the North East Ambulance recorded an incident of "burns to a patient's feet" during transportation
In 2012-13, there were 442 serious incidents reported (though that number includes an unusually high number from North East Ambulance Service, which recorded 127 SIs for hospital handover delays). Even with those delays included, the overall number of SIs rose 16% to 513 in 2016-17.
The bulk of incidents include drug errors, delays, patients falling from trolleys and road traffic accidents involving ambulances.
But they also include more unusual episodes such as an allegation of rape reported in January this year by a patient against a member of West Midlands Ambulance Service (police have yet to bring any charges in the case) and the wheel of a North West ambulance falling off while carrying a patient.
Sara Gorton, head of health at Unison, said: "This rise reflects the intolerable pressures facing ambulance services country-wide.
"Cutbacks and chronic staffing issues have left them struggling to cope, as is the whole of the NHS."
The largest rise is at the London Ambulance Service where the number of serious incidents rose from 16 in 2012-13 to 90 in 2016-17, an increase of 462%.
The London Ambulance Service said the rise was the result partly of staff being encouraged to report incidents and it being an "open and transparent service".
A spokesman added: "We're the busiest emergency ambulance service in the country, handling over 5,000 calls each day – an increase of over 10% from 2012-13."
Elsewhere the North West service saw a rise of 91%, the East 85%, South East Coast 84%, South Western 68% and Yorkshire 24%.
The largest number of SIs in 2016-17 were reported by the East of England Ambulance Service, which had 96 episodes requiring investigation.
The service said it had introduced a new reporting system and claimed although the numbers of SIs had risen the number of patients actually harmed had reduced.
Sandy Brown, the service's director of nursing and clinical quality, said it had a "robust system", welcomed the increase in staff reporting incidents and claimed that "over the past two years we've seen a reduction in harm to patients as a result in this change of approach".
A spokesman for the Association of Ambulance Chief Executives said in the wake of the Mid Staffordshire inquiry all NHS trusts had "been focusing efforts on enhancing their systems around patient safety and quality of care".
"NHS Improvement suggests that ambulance services should encourage healthcare staff to record all patient safety incidents, whether they result in harm or not," the spokesman said.
"This is why the ambulance service is developing a culture of learning from all incidents, including 'near misses' where no harm to patients has been identified."
In addition NHS Ambulance Trusts are also sharing lessons from such reports across their services so that common issues can be identified and mitigated across the country.
"With ambulance services responding to millions of patient calls each year the actual number of SIs represents a tiny minority of patient interactions," he added.
NHS England, which sets the priorities and direction of the NHS, declined to comment.
1
London
London News & Search
1 News - 1 eMovies - 1 eMusic - 1 eBooks - 1 Search