1
London
London News & Search
1 News - 1 eMovies - 1 eMusic - 1 eBooks - 1 Search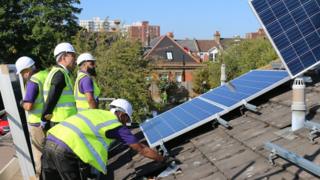 Solar panels are to be installed in 800,000 low-income homes across England and Wales over the next five years, as part of a new government scheme.
The Dutch firm, Maas Capital is investing £160m in the project.
The panels, which will be free to tenants, are expected to cut hundreds of pounds from energy bills, according to the UK firm Solarplicity.
The first people to benefit from the scheme include residents of a sheltered retirement home in Ealing, west London.
Speaking at the site, International Trade minister Greg Hands said: "This initial £160m capital expenditure programme will deliver massive benefits to some of the UK's poorest households.
"As well as creating 1,000 jobs and delivering cheaper energy bills for up to 800,000 homes, it shows yet another vote of confidence in the UK as a place to invest and do business."
The firm providing the panels, Solarplicity, will work with more than 40 social landlords, including local authorities across England and Wales.
Veteran recruitment
Mr Hands also told BBC Radio 4's Today programme that Solarplicity will target military veterans when it recruits staff to install the panels.
"Armed forces veterans are very good at doing this, actually," he said. "They understand how to put the panels on efficiently and well."
Tenants in the North West will be the biggest beneficiaries with more than 290,000 homes receiving solar panels in towns and cities such as Oldham and Bradford.
The North East and Midlands will also see a significant number of homes benefit.
Tenants will not pay anything towards the installation of the panels and their energy bills will be reduced by an average of £240 per year according to the Department for International Trade.
Julian Bell, leader of Ealing Council welcomed the scheme, but said its own programme of installing solar panels had been curtailed after the government reduced the feed-in tariffs that offered a return on electricity generated from small scale energy schemes.
"The business case didn't quite add-up when the government made changes to subsidies and feed-in tariffs for sustainable energy," he said.
"We're grateful that private investors are coming here and investing in Ealing and benefitting our residents but the government still needs to do more to move people to sustainable energy and solar power particularly."
The chief executive of Solarplicity, David Elbourne, said the price of solar panels had fallen enough so that government subsidies were no longer essential.
"In the past the feed-in tariff meant that people who could afford to have solar, benefitted from solar. But now people who can't afford to have solar [can]- we'll put it on the roof for free – and they will get a reduced energy bill."
David Hunter, director of market studies at energy management firm, Schneider Electric, gave the scheme a cautious welcome.
"Obviously any kind of investment in the transition to low carbon energy supply can be a positive thing and with any of these developments it's always best to consider whether it's best value for money.
"But certainly the idea of upgrading our social housing stock to make it more energy efficient and lower carbon is a worthwhile aim," he said.
1
London
London News & Search
1 News - 1 eMovies - 1 eMusic - 1 eBooks - 1 Search