1
London
London News & Search
1 News - 1 eMovies - 1 eMusic - 1 eBooks - 1 Search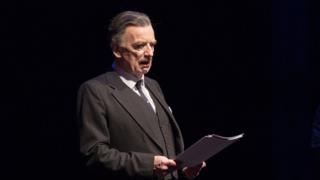 A single controversial speech probably made Enoch Powell the most admired and the most detested British politician of the 1960s. In 1968 his intervention in Britain's policies on migration ended his career as a shadow minister – but it made him known around the world. Chris Hannan's play What Shadows, starring Star Wars actor Ian McDiarmid, looks at Powell's motives then and at his legacy today.
Hannan says the play What Shadows isn't really about Powell, although the politician dominates the stage.
"I knew I wanted to write about national identity and Powell is a good way of exploring that. But the inspiration was partly my own background in a working-class Irish family in Scotland. There was a huge amount of discrimination as the Irish were often seen as unwanted immigrants. So the Powell speech resonated more widely than you might think."
In April 1968 Powell made a speech which has gone down in British political history. The Conservatives were in opposition under Edward Heath – a party rival for whom Powell had little respect. Powell, the Tory defence spokesman, knew some of his white constituents in Wolverhampton South-West were unhappy at levels of immigration from the Commonwealth.
He made a speech at the Midland Hotel in Birmingham, using the racial language of the time, in which he quoted the Roman poet Virgil, setting out dark forebodings about growing levels of migration. "Like the Roman," he said "I seem to see the River Tiber foaming with much blood."
The press around the world reported the so-called "rivers of blood" speech and Powell was quickly sacked from the Tory front bench. But TV news bulletins were filled with voters for whom Powell had become an unlikely populist hero.
Hannan's play shows events surrounding the Birmingham speech and then revisits Powell towards the end of his life. The play was seen last year at the Birmingham Rep and is now being restaged in Edinburgh and London. The lead role is taken by Ian McDiarmid, famous on screen as the Emperor Palpatine in the Star Wars films.
McDiarmid says the 1968 Britain we see portrayed isn't very different from the nation today. "I think we now have a divided Britain, almost down the middle – as it very much was when Powell made the speech.
"There are the people who have reason to be grateful and happy about multiculturalism and there are other people who are feeling rather dispossessed. And that's something which he put his finger on in 1968 – in fact he lit the blue touch-paper.
"So Chris has written about a divided nation but with Powell there's also a divided personality. He was a romantic nationalist and a passionate person: he felt he had an insight into human nature. In a public sense he had two great ambitions: he wanted to be Viceroy of India and then he wanted to be prime minister. They both came to nothing."
Political journalist Simon Heffer was Powell's official biographer. Before the politician's death in 1998 they spoke about the Birmingham speech – but he was never quite sure if Powell had been surprised at its huge impact with the public.
"There's no denying that Enoch had aspirations to be his party's leader. He disliked the fact that Edward Heath was a pro-European and not a traditional Tory. He knew the Birmingham speech would aggravate Heath but he was also, I think, acting as a dedicated constituency MP. He was not a racist and I think he had no theories about race as such – but he was opposed to immigration.
"Some of the language he used in the speech undoubtedly offended people with his talk of 'charming, wide-grinning piccaninnies'. It's fair to point out that he was quoting a constituent.
"But when I wrote his biography a lot of his contemporaries at Westminster told me his speech had made it impossible to discuss immigration at all: the whole thing became so toxic. That was not what he intended."
Hannan enjoyed delving into Powell's complex personality. But he says it's contemporary Britain he had in mind writing the play. "We find this conversation so difficult: it's as if the language isn't fit for talking about it. As soon as we raise the subject of racism and immigration we can last about two minutes before we give up and shut the dialogue down.
"I believe the conversation has actually got worse over the half century since the Powell speech. The play really ask, 'How do we learn to talk about this? How do we learn to talk about the things that divide us?' Because we have to get beyond all the hatred – there's no choice about that. The play is about the Birmingham speech needing to be answered. It's not a matter of agreeing with it but I want to know, with all the anger, how on earth do we talk to each other?"
McDiarmid has to make Powell tick on stage – so does he find something to like in him?
"Acting works by empathising with your character. If you fail to do that, the audience simply won't take it seriously and the whole thing will fall apart. So I admire him for sticking to his guns. But at the end of the day you have to ask if what he did advanced the argument in any productive way. I'm not sure it did.
"I suspect the audience may go away thinking he was brave but also naïve – or prejudiced but also honest. I think there are elements of all those aspects to him. But he was a significant character in British life. And – whether you like his arguments or not – the issues he raises are as relevant as they ever were."
What Shadows plays at the Lyceum theatre in Edinburgh from 7 September. From 26 September it's at the Park theatre in London.
Follow us on Facebook, on Twitter @BBCNewsEnts, or on Instagram at bbcnewsents. If you have a story suggestion email entertainment.news@bbc.co.uk.
1
London
London News & Search
1 News - 1 eMovies - 1 eMusic - 1 eBooks - 1 Search