1
London
London News & Search
1 News - 1 eMovies - 1 eMusic - 1 eBooks - 1 Search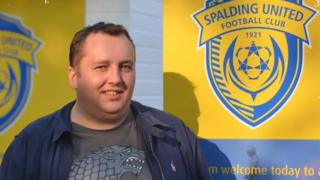 In a modest County Durham football ground, a cross-country summer adventure will end tonight.
The match, between Darlington Railway Athletic and Tow Law Town, takes place in Northern League Division Two.
It is the 10th tier of English football, where games are sometimes still played on mud patches and the players smell of Deep Heat.
The crowd will be 100, at most. If it rains, it will be half that. But among them, come rain or shine, will be Anders Johansen.
Anders, 44, is from Norway. This match will be the 27th he has seen in Britain in 24 days.
While some people seek out the sun, Anders has spent his summer holiday watching teams such as Llandrindod Wells, Quorn, and Percy Main Amateurs.
"My friends think I'm mad," he admits.
In total, Anders has seen matches at 445 grounds in England, most in the past few years (two years ago, he saw 117 games in one season).
He's also been to 18 grounds in Scotland, three in Wales, and two in Northern Ireland.
In short, he is a groundhopper. While others collect stamps, Anders collects football grounds.
---
Groundhoppers: A field guide
Groundhoppers collect football grounds, as well as supporting their own team
Some watch more than 200 matches a season
Tony Incenzo, a QPR fan, has visited more than 2,000 grounds in total
John Stancombe, who is blind, has been to more than 1,600 grounds
Some leagues hold groundhopping weekends to enable people to visit new grounds
---
Anders grew up watching English football. In Norway, First Division matches were broadcast live on Saturday afternoons, and a whole generation was hooked.
In the early 1990s, an English friend introduced Anders to Reading FC. Anders became a fan, travelling from Norway a couple of times a season to watch matches.
But, by 2010, he was "falling out of love" with the club. Reading were in a golden era – spending two seasons in the Premier League from 2006 to 2008 – but Anders was disillusioned.
"I always wanted Reading to reach the Premier League," he says. "But when we got there I found it boring.
"I don't like the top level any more. It's not for me. It's been reduced to business. It's all about money – foreign owners, foreign managers, foreign players.
"And I don't like the new grounds. They all look the same. Plastic bowls."
During one visit to England, in between Reading games, Anders went to a non-league match (in England, non-league means anything below the top four divisions of the Premier League and Football League).
"I fell in love again," he says.
"At the top level, you're just a customer. A number. In non-league, you always get a welcome."
Anders has been welcomed in every corner of Britain: from Falmouth Town (Cornwall) to Forres Mechanics (near Inverness).
In Shildon, County Durham, where he visited on August Bank Holiday Monday, he got a full English – and a pint – in the clubhouse before the game.
At Sheringham, Norfolk, which he visited on 18 August, he got a club shirt and a lift back to the station.
"Things like that are typical," says Anders. "People are kind."
And the hospitality goes both ways.
At Horden Colliery Welfare, Anders won the raffle not once, but twice. Both times, the prizes – a bottle of wine and a box of chocolates – were given back to the club.
It is the community, as much as the football, that keeps Anders flying over the North Sea.
Although he does visit bigger clubs – he has been to Sunderland and Tranmere Rovers this summer – Anders enjoys the grassroots grounds the most.
"In Norway, below the top two or three divisions, most football grounds are very boring," he says.
"They are council-owned plastic pitch complexes. A number of teams groundshare. It is no-one's home.
"They are not allowed to sell alcohol, so people come a minute before kick-off and leave at the final whistle.
"But in Britain, most teams have a clubhouse. People get there early. The football clubs are like a little community hub."
After visiting more than 450 British grounds, Anders is well known in non-league football – "I often see a friendly face," he says – but he prefers to travel alone.
"That way I can go where I want."
He uses a rail pass to keep costs down and stays in budget hotels and B&Bs, or with friends.
Anders, who's from Drobak, a town 20 miles south of Oslo, used to work in warehousing but quit to follow his passion. He now earns money writing guides to English football.
"So far it's been okay," he says. "But I am considering finding another job."
After tonight's match in Darlington, Anders will fly home on Friday.
He is due back in England on Boxing Day. How long he stays depends on how much money he saves before then.
But what about when the grounds run out? What will he do when there are no more worlds to conquer?
"There are always new grounds to visit," he says, laughing.
"And in the last year or two, I've taken a liking to Scottish grounds."
1
London
London News & Search
1 News - 1 eMovies - 1 eMusic - 1 eBooks - 1 Search