1
London
London News & Search
1 News - 1 eMovies - 1 eMusic - 1 eBooks - 1 Search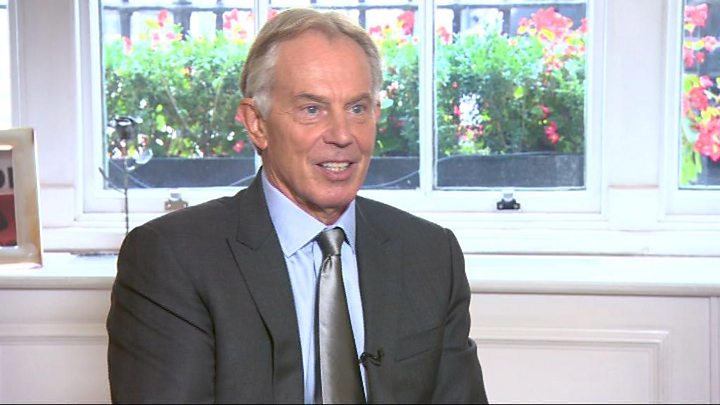 Tony Blair became "obsessed" with creating a British football league as a way of bringing the UK together, the former prime minister has revealed.
Mr Blair said he believed merging the Scottish and English leagues would strengthen the bonds between the two nations after devolution.
But he said a British national football team would have been a "step too far".
Mr Blair was speaking to BBC Scotland to mark the 20th anniversary of the devolution referendum.
The referendum was held just four months after he led Labour to a landslide victory in the 1997 general election.
Looking back at the referendum – which led to the creation of the Scottish Parliament in Edinburgh two years later – and its aftermath, Mr Blair said he believed in retrospect that he could have "looked for more ways to keep Scotland and England culturally aligned".
He told BBC Scotland's political editor Brian Taylor: "I know it sounds a bit strange but I was for a time quite obsessed with the idea that, for example, for football we should be opening up the English league and the Scottish league and having them together.
"I always thought we should be looking at ways of making sure that people felt a connection."
It has often been suggested that Rangers and Celtic in particular could join the far wealthier English league but the idea has never come to fruition – partly because of the lack of widespread support for the move from English teams.
Mr Blair, a Newcastle United fan, said he could still see a "certain logic" in the concept of a combined British league.
But he acknowledged that any proposals for a British team to replace the Scottish, English, Welsh and Northern Irish international teams would be a "step far too far".
He added: "I was looking for ways of making sure that as we in a sense diverged around devolution, that there were elements of convergence and I still think in the future it is important we look for that."
---
Analysis by Brian Taylor, BBC Scotland political editor
Tony Blair's government may have implemented devolution but he says he was always conscious of the risk that it might push Scotland and England apart culturally.
His plan for a united football league never got beyond a prime ministerial obsession 20 years ago – and has never become reality. Mr Blair says that he still favours the football league merger, and would be keen to seek other ties that bind Scotland and England together.
Despite those qualms, he stresses that he firmly backed devolved self-government two decades ago and remains a strong supporter today.
Some felt at the time the devolution referendum was a "betrayal" of Labour's promise to create a Scottish Parliament or an attempt to dilute or even dump devolution.
Mr Blair says such views were "slightly odd", given that his aim was to give the Scottish people a direct choice.
He was "absolutely convinced" that devolution would have been blocked at Westminster by the House of Lords without the evident popular mandate delivered in the referendum.
The former PM says he studied more than 100 years of history, looking at previous efforts to transfer power to Scotland. Each had foundered upon the rock of entrenched opposition at Westminster, notably in the Upper House.
---
The referendum on 11 September 1997 saw proposals to establish a new parliament in Edinburgh backed by 74% to 26%, while a second question on whether it should have tax varying powers saw a 63% to 37% vote in favour.
The referendum had been a key pledge of Mr Blair's ahead of the general election, but caused huge controversy at the time – not least within the Labour Party itself.
Some felt at the time it was a "betrayal" of Labour's promise to create a Scottish Parliament or an attempt to dilute or even dump devolution.
'Defanged the opposition'
But Mr Blair insisted that he had been – and remained – a strong supporter of devolution, and that the referendum was needed to prevent any attempt to block it by opponents.
He explained: "I think we defanged the opposition in the House of Lords particularly by saying there has been a referendum and the will of the Scottish people is there so you can't and shouldn't interfere with that.
"I think the tactics of this were very, very clear – unless you laid the groundwork, the clear statement of support from the Scottish people, it was going to be much much more difficult to do."
The first decade of the Scottish Parliament saw Labour form the administration alongside its Liberal Democrat coalition partners.
But that status quo was blown away in 2007 with the surprise victory of the SNP – with the party holding power at Holyrood ever since.
Mr Blair said he could understand the reasons for the rise of Scottish nationalism, but argued that there was a "divisive aspect" to it.
He said: "So for me devolution was about a sensible set of reforms to government, but I wanted to make sure all the way through that we kept that sense of unity culturally and politically at the right level for the UK.
"My view all the way through was that of course you were never going to end up with one party permanently in power in the Scottish Parliament – that would be strange and unusual."
Mr Blair has been a vocal critic of current Labour leader Jeremy Corbyn, and has urged the party to return to the centre ground of British politics.
He acknowledged that Mr Corbyn's leadership was "settled for the moment" after the party exceeded expectations in the general election and increased its number of Scottish MPs from one to seven.
But with the party preparing to choose a new Scottish leader following the resignation of Kezia Dugdale, he said he believed Labour was at its best when it was standing on a "distinctive and clear" platform of "a strong belief in social justice, a modern way of achieving it and strong defence of the Union."
1
London
London News & Search
1 News - 1 eMovies - 1 eMusic - 1 eBooks - 1 Search