1
London
London News & Search
1 News - 1 eMovies - 1 eMusic - 1 eBooks - 1 Search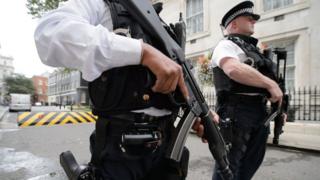 The senior UK counter-terrorism officer at Scotland Yard has warned the terror threat level will remain at severe for at least the next five years.
Metropolitan Police Deputy Assistant Commissioner Neil Basu said the risk posed to the UK from terrorists was "an unknown threat in our midst".
He warned isolated communities and unregulated schooling in the UK were a "breeding ground" for extremism.
There are currently about 600 active counter-terrorism investigations.
Mr Basu said it had been a "summer like no other", with four terror attacks in three months in London and Manchester.
The UK's terror threat level has been at severe since October 2014, apart from a short period when it was raised to critical following the Manchester Arena attack.
Twenty-two people died when a suicide bomber blew himself up after an Ariana Grande concert on 22 May.
Mr Basu said he did not think the threat level would change before he retired in 2022, adding there had been a "shift" in the amount of investigative activity.
In the week after the attack in Manchester, 3,000 calls were made to the anti-terrorism hotline.
Addressing the Police Superintendents' Association annual conference, the deputy assistant commissioner said the authorities could not "arrest their way" out of terrorism because there would be a "revolving door" of suspects.
He called for more resources to be devoted to Prevent, the government's anti-terrorism scheme, which he described as the "most important pillar" of the counter-terror strategy.
The scheme is designed to support people at risk of joining extremist groups and carrying out terrorist activities by focusing on schools, faith organisations, prisons and other communities where people can be at risk of radicalisation.
Six-second soundbites
Mr Basu said the danger of attacks from overseas had been replaced by the threat posed by home-grown terrorists.
"The threat was the traveller or the returning fighter, who was battle-hardened and even angrier, but now it's the threat in our midst," he said.
He added: "There is also a definite problem in segregated and isolated communities and with what I think is an even more extreme second generation."
Mr Basu warned that disenfranchised people were being radicalised by propaganda on their smartphones, delivered in "six-second soundbites through their handheld devices 24/7".
He emphasised the importance of neighbourhood policing and response officers who had helped to deal with the recent terror attacks.
"That's why we can't afford further cuts to wider policing, even if we remain safe with the CT [counter-terrorism] grant," he said.
In the six years to September 2016, the number of police officers in England and Wales fell by 18,991, or 13%, according to the Home Office.
1
London
London News & Search
1 News - 1 eMovies - 1 eMusic - 1 eBooks - 1 Search