1
London
London News & Search
1 News - 1 eMovies - 1 eMusic - 1 eBooks - 1 Search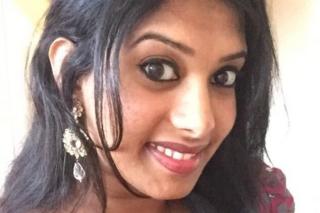 Two days into her final year at Cardiff University, Vithiya Alphons who was 24, was told she could have just hours to live because acute myeloid leukaemia was raging through her body.
Told her only hope of life was a bone marrow transplant, her family campaigned to get people onto the register in a desperate bid to find a match.
Two years later, in her own words, she tells how she had to accept a potentially fatal 50% match and the recovery she faced.
As I stood in the street on my phone being told by a doctor to go straight to hospital, I was confused.
I was fit, young and about to start my final year studying optometry. I was standing outside a bowling alley where I was due to meet friends for a catch up after the summer holidays.
The doctor gently said: "Bring a friend with you, and an overnight bag."
I hung up thinking why were they calling me in? What could be so serious?
It had started a few days before when, as lectures for my final year began, I started to get pains in my legs and groin.
I had no idea of it then, but those pains were the sign of an illness so acute, raging through my body at such a swift rate, I could have only hours to live.
I went to the GP who sent me for blood tests but then I went to uni as normal. That night I got the call.
At Cardiff's University Hospital of Wales the doctor took me to a room, sat me down and said: "The next 30 seconds of your life are going to be the scariest 30 seconds of your life.
"I'm really sorry to say, but you have got acute myeloid leukaemia (AML), it is a type of blood cancer. It is life-threatening. You might not be here in a couple of days or months."
The doctors told me it was advancing at such speed I could die within hours.
Within two hours of arriving I had already had a bone marrow biopsy and started a course of chemotherapy. It was so strong I was throwing up constantly.
In between I sat on my bed worrying about how my parents, who were on their way from Walthamstow, London, would take it.
After they arrived early the next morning the doctors told my mum: "You are so lucky we caught it because in a couple of days time you would have been arranging your daughter's funeral."
I had an intense 10-day course of chemotherapy.
It was horrible, I was sick up to 15 times a day and I had diarrhoea up to 25 times. I was so tired, I couldn't eat. I started losing my hair within a week and told the nurses to cut it off.
It was so hard. Weeks before I had been independent, living on my own, I was doing cooking, cleaning, shopping, studying, everything on my own.
Now I couldn't even open a water bottle – it was open, but I had to call a nurse to physically take the cap off and help me drink it. I couldn't eat, I couldn't walk, I couldn't feed myself. I couldn't do anything. I wasn't myself.
Every night I would wonder if I would see the next morning.
I stayed in hospital for three weeks after the chemo, then travelled home to London where I had another round of chemotherapy – this time at University College London Hospital.
After that I started to feel stronger again. And then they gave me some amazing news – I was in remission.
But there was some bad news too – the cancer would be back within six months if I didn't have a bone marrow transplant.
The doctors said we had two months to find a match, but warned me it would be difficult because of my Tamil heritage – both my parents were born in Sri Lanka.
There is a shortage of people on the bone marrow register from black, Asian and minority ethnic backgrounds, so my odds of finding a 100% or even 90% match – which would give me the best chance – were not good.
The closer the match is, the easier it is for your body to accept the cells as your own, if it rejects them it is life-threatening.
While I had more chemo to buy more time to find someone, my family and friends got tested and organised donor drives in London – where people could come and do a mouth swab to register as donors.
People I didn't know then started doing their own donor drives. There were drives in Birmingham, Cardiff, Germany, Canada and France.
More than a thousand people turned up at one and they ran out of the testing kits. At another people were queuing out of the door in the rain.
But time was running out. The last round of chemo had really taken a toll on me, and I had a bad reaction to one of the drugs. At one point I had a temperature of 45C, another time I almost fell into a coma.
Bone marrow register
Black, Asian and minority ethnic (BAME) people make up just 15% of the bone marrow donor register
The shortage of ethnic minority donors means that BAME patients have only a 20.5% chance of finding the best possible donor match
Northern Europeans have a 69% chance of finding the best possible donor match
Figures from Anthony Nolan
We hadn't found a full match but my mum was a 50% match – so the consultant said we had to go ahead with her.
The day before the transplant the doctor told me there was a 40% chance of death if my body rejected the cells.
After the transplant I was given immunosuppressants to try to increase my body's chances of accepting the transplant. To my amazement my body started to accept my mum's stem cells.
But having a bone marrow transplant is like being born again – you have no immunity to anything, so you're really vulnerable to infection which meant I spent weeks in the hospital in virtual quarantine.
I lay in the hospital bed thinking about my friends who were having their graduation ceremonies. I was supposed to be graduating too – and fulfilling my dream of becoming an optometrist.
At one point I was sedated for a procedure and, while semi-conscious, I started talking. My mum recorded me.
"I hate this stupid cancer, I hate this disease," I said in slurred speech. "Cardiff University was the best university for me. My life was so good. Everything was perfect then this happened. This stupid cancer came, this stupid disease."
Then I started crying.
"All my friends graduated, I would have graduated with them, my job would have started," I sobbed. "I would have been able to look after my parents. Then this stupid disease came and everything stopped."
When the nurses woke me up I asked them why my pillow was wet. Everything I had said was from my subconscious.
It made me realise I needed to go back to uni. I couldn't imagine the prospect of waiting another year.
Find out more
You are not supposed to go into public places until at least six to eight months after your transplant, or go to schools until a year after. I wanted to go after four months so, naturally, most of the doctors were against it.
But my consultant heard the recording and said: "Let's just give it a try. But you can't go to lectures, you have to do it from home, you have to be really careful at clinics, and if you feel the tiniest bit unwell you have to stop."
The other proviso was that my mum would come to look after me.
So a month after being given the go-ahead I was back in Cardiff and a student again. The lectures were recorded for me, and I was given the presentations being used so I could study at the studio flat my mum and I now called home.
At the clinics where I needed to treat members of the public face-to-face three times a week, all of my patients were vetted to make sure they had no visible signs of coughs or colds.
But it was hard studying in virtual isolation. I missed lectures and my friends, most of whom had graduated. My world had shrunk to the flat, the optometry clinic and my family home in London.
Despite that it was a really good change for me. I progressively started to get better and was determined to graduate.
It was at exam time when I realised how much of a toll the treatment had taken on me, because I was forgetting a lot of things and found it really hard to concentrate.
But I passed. I graduated on 17 July this year. I couldn't believe I had done it.
I'm also with an amazing man who asked me out before all this began, and waited until I was out of hospital to ask me again. I love that he accepts me for who I am and everything I have been through.
On September 11, I am finally starting the job at Colchester Specsavers I had lined up before falling ill.
Sometimes I feel like I don't have the energy I used to before, but it can take five years to recover after a transplant.
When I was back at university I got a message from a girl who had signed up to be a donor after my campaign. She told me she had been asked to donate bone marrow for someone. I started crying as I realised someone was going to be given a second chance because of the campaign.
More than 10,000 people signed up to become donors as a result of my campaign, and I know of seven people who have found matches with donors. That makes me feel so happy.
I know from my experience that to have a bone marrow transplant is not just getting the gift of life, but giving your whole family a future with you in it.
1
London
London News & Search
1 News - 1 eMovies - 1 eMusic - 1 eBooks - 1 Search