1
London
London News & Search
1 News - 1 eMovies - 1 eMusic - 1 eBooks - 1 Search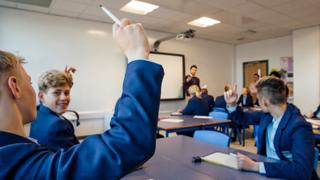 A potential shortage of school places looms ahead in secondary schools in England, councils are warning.
The Local Government Association says schools will be thousands of places short over the next few years as a population bulge moves up from primary.
It says schools in 12 councils will be over capacity by 2018, rising to nearly half of councils within five years.
But the Department for Education attacked the figures as "thoroughly misleading".
This is the sixth year in a row that town hall bosses, who are responsible for ensuring sufficient places, have warned of a future squeeze.
This time, the LGA says schools could be nearly 8,000 places short by September 2018 and 125,000 short by 2022.
'Real frustration'
The figures represent the difference between the predicted pupil numbers and the number of places presently available on the ground.
Councils say the problem is becoming more difficult for them deal with as they no longer have any influence over many of the schools that may need to expand.
The surge in primary school pupils has seen councils help deliver an extra 600,000 places since 2010, but this was achieved by adding rooms and capacity to council primary schools.
At secondary level, two-thirds of schools are now academies which are independent of local authorities.
Councillor Richard Watts said: "It is not difficult to predict the number of kids who will need a place – you get 11 years' notice – so there's a real sense of frustration that there's this intense pressure.
"Over the years, our powers to deal with the issue have reduced, and this creates a bigger problem.
"Given that most of secondary schools in the country are now academies, local government does not have the powers to require these schools to expand or to set up new schools themselves."
Geoff Barton, general secretary of the Association of School and College Leaders, said: "No-one can really claim that it's a surprise.
"We have had the National Audit Office predicting these student numbers.
"The information was there, the planning should have been done.
"How have we ended up where we are?"
'735,000 extra places'
The way forward was a collaborative approach between local authorities, academy chains and the regional schools commissioners overseeing academy standards, Mr Barton said.
A Department for Education spokesperson said: "Local authorities have a statutory duty to ensure that there is a school place available for every child.
"We have allocated £5.8bn of basic need funding between 2015 and 2020 to enable them to do this, and over 735,000 additional pupil places were created between 2010 and 2016.
"This money is given to councils based on their own estimates of the number of places they will need."
1
London
London News & Search
1 News - 1 eMovies - 1 eMusic - 1 eBooks - 1 Search