1
London
London News & Search
1 News - 1 eMovies - 1 eMusic - 1 eBooks - 1 Search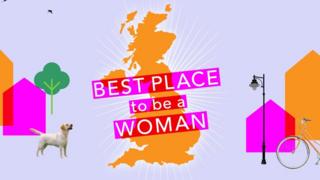 East Dunbartonshire is the best place to live in the UK if you are a woman, according to research for BBC Radio 4's Woman's Hour.
The Scottish local authority, which borders Glasgow, came out top when a number of factors, include some gender-specific measures, were analysed.
Islington, in north London, was rated the worst place for women to live.
The National Centre for Social Research analysis factored in issues such as the gender pay gap and education.
It used data from a number of sources, including the Office for National statistics' 2016 Annual Population Survey and the 2011 Census.
Of all 380 local authorities in the UK, East Dunbartonshire came out top for women, rating highly on a number of factors, from happiness to access to green spaces – and top-scoring on general living and wellbeing.
The average full-time salary for women there was £15.07 per hour, 46th in the UK. It also ranked highly for education, quality of the local environment and life satisfaction.
The area, which contains many of Glasgow's suburbs and commuter towns, ranked 192nd for housing affordability with an average property costing 7.5 times the area's average salary.
'A great place'
It's not the first time East Dunbartonshire's desirability has been recognised.
In 2007, a Reader's Digest poll saw it voted the best place in the UK to raise a family, citing "safe streets, strong schools and thriving towns", backed by a strong community.
Ellie, 17, goes to Bishopbriggs Academy in East Dunbartonshire and says she feels supported by both the school and the community it is part of.
"I've not met one person in Bishopbriggs who said that you can't do something, or you cannot achieve what you want to achieve. I think we all know that we do live in a really nice place and it is a great place to live."
Classmate Stephanie, 16, said: "I'd like to live here and hopefully have a family here and just be a good role model to all the younger citizens of Bishopbriggs."
But Nieve, 16, said it was unlikely she'd live in Bishopbriggs forever, adding: "I feel like when you're here you are quite tied down. I don't want to be stuck here."
Top 10 local authorities for women in Great Britain
1
East Dunbartonshire
Scotland
2
East Renfrewshire
Scotland
3
West Oxfordshire
South East
4
West Berkshire
South East
5
South Oxfordshire
South East
6
Winchester
South East
7
Mid Sussex
South East
8
Wycombe
South East
9
Stafford
West Midlands
10
Shropshire
West Midlands
Islington is ranked worst in large part because it is one of the least affordable places to buy a home in the country, with the median house price 16 times the median income.
The north London borough was actually ranked 16th across the UK for women's full-time wages, with the median being £16.35 per hour, but due to a large gender pay gap it was bumped into 105th place out of 380.
Residents here also reported the lowest levels of happiness (371st), life satisfaction (372nd), and feelings that their life is worthwhile (379th).
Woman's Hour listeners have been sharing their "best places" online and on air. Caller Lorraine made the case for Thanet, in Kent, which she said was "super affordable", while enjoying the economic opportunities of being close to London.
"It's a dream come true to be able to live by the sea," she said.
Kimberly, who lives on the Gower in Swansea, also enjoyed the benefits of moving back to the coast with her three children.
"You can live a very community-focused life here. It's an immensely supportive place and I love it," she said. "Knowing and being known through generations is a tremendously valuable thing."
Scotland, south-east England and the West Midlands dominate the top 10 list for best overall place for women to live.
West Oxfordshire and West Berkshire both rank highly in the South East, and Stafford and Shropshire are also placed in the top 10.
But four London boroughs feature in the 10 worst places for women to live, with Camden, Westminster, and the City of London featuring alongside Islington.
What do women value most?
The analysis divided women into three age groups: those under 30; 30 to 65; and over 65s.
Kingston upon Hull ranked the worst place to live as a woman under the age of 30 due to high levels of unemployment.
South Oxfordshire was the best place for women to grow old, boasting low female mortality, a low crime rate and fewer women living alone – which the Women's Hour report says can lead to isolation and a diminished social network.
The bottom 10 local authorities for women in Great Britain
1
Islington
London
2
Blackpool
North West
3
Corby
East Midlands
4
Boston
East Midlands
5
Kingston upon Hull
Yorkshire and The Humber
6
Burnley
North West
7
City of London
London
8
Westminster
London
9
Wolverhampton
West Midlands
10
Camden
London
Woman's Hour will be broadcast live from East Dunbartonshire, at 10:00 – 10:45am on Wednesday on Radio 4.
1
London
London News & Search
1 News - 1 eMovies - 1 eMusic - 1 eBooks - 1 Search