1
London
London News & Search
1 News - 1 eMovies - 1 eMusic - 1 eBooks - 1 Search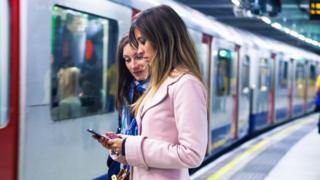 Tube commuters could get more accurate travel updates using passengers' wi-fi data, Transport for London (TfL) has said.
The anonymous information was collected during a four-week trial last year and showed how people used the network.
Transport for London said it could help ensure trains are where they are most needed to ease overcrowding.
Privacy campaign group Big Brother Watch has expressed concern over the technology.
The pilot scheme, which cost £100,000, focused on 54 stations and saw more than 509 million pieces of data collected from 5.6 million mobile devices.
By using this data, TfL said it could get a more accurate understanding of how people move through stations, interchange between services and how crowding develops.
It revealed a number of results that could not have been detected from ticketing data or paper-based surveys, TfL said.
Popular routes
For example, it showed customers travelling between King's Cross St Pancras and Waterloo take at least 18 different routes, with around 40% of customers not taking one of the two most popular routes.
TfL is now working with organisations such as the Information Commissioner's Office to see how the data can be collected on a permanent basis.
Lauren Sager Weinstein, chief data officer at TfL, said: "The potential benefits this depersonalised data could unlock, from providing better customer data to helping address overcrowding, are enormous."
The data collected was depersonalised so that no individuals could be identified, and no browsing information was collected from devices.
A spokesperson for Big Brother Watch said: "Analysing movements of people via their device may provide unique analytical benefit but is still a process of tracking and monitoring as they go about their daily business.
"It is critical that the public are completely clear on what is being done, when, how and why, and how they can opt out."
---
How TfL say the data could help passengers
The data collected could in future be used to work out how busy incoming trains are, and help commuters plan their journeys accordingly.
If you are starting from Camden Town, for example, and trying to get to Victoria, you could choose the quickest route changing at Warren Street.
However, if you are in no rush, an app using the kind of data collected could tell you that you could take the slower but much less crowded route via Embankment, and maybe get a seat.
This could help people make much more comfortable journeys across the capital at rush hour.
1
London
London News & Search
1 News - 1 eMovies - 1 eMusic - 1 eBooks - 1 Search